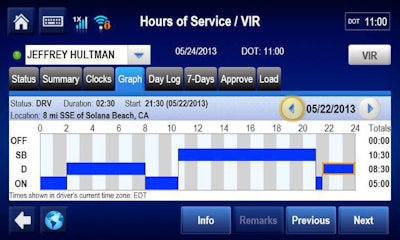 Truckstop.com announced Friday it is teaming up with electronic logging device providers to build an online database of available ELDs. The new ELD Marketplace is meant to aid carriers and drivers in finding the ELD that bits fits their operation, Truckstop.com says.
"Each ELD provider has been carefully researched and vetted by Truckstop.com to ensure customers receive customizable options, competitive price and overall quality service," the company said in a press release.
The list of vetted providers will grow, Truckstop.com says, but currently includes Glostone Trucking Solutions (seller of GeoTab), GPS Insight, HOS-Reporter, JJ Keller, KeepTruckin and Omnitracs.
The Federal Motor Carrier Safety Administration also has on its site a list of ELD makers who have self-certified that their devices meet the requirements of the federal ELD mandate, the compliance date for which is Dec. 18. The devices on FMCSA's registry have not been vetted for performance or compliance; manufacturers themselves submit the devices and claim that they are compliant.
Truckstop.com's Thayne Boren, general manager of mobile apps for the company, says the online load board "wanted to remove the murkiness around the vast number of vendors that seemingly popped up overnight."
"We wanted to provide them with vetted solutions from industry leaders," he says. "It is important to us to be stewards of the industry and we wanted to provide clarity around something as impacting and encompassing as the ELD Mandate."