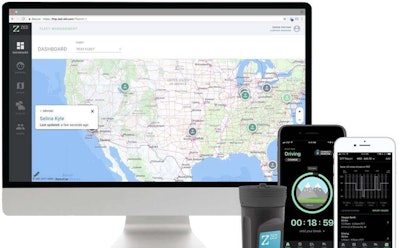 ZED Connect, formed by Cummins to market one of the few non-subscription-fee electronic logging devices, plans to add other data-based services through its ELD, said John Henry, director of channel sales.
One of the first to be added, in a month or so, will be IFTA miles recording, at $5 per vehicle per month, Henry said in late March during the Mid-America Trucking Show in Louisville, Kentucky. ZED Connect also plans to add the existing Cummins Connective Diagnostic as a direct service in addition to its availability through other telematics service providers, such as Omnitracs, as it has so far.
The company anticipates many other products to be built from Cummins engines' ECUs, using data that's gathered on a deeper level than the data that's been widely used for years.
Though some ancillary products will be provided free, revenue from paid items is what makes it possible for the ZED Connect ELD to be offered for only a one-time fee of $200, Henry said. When Cummins created ZED Connect, its directive was "to take these data feeds and find things that would be useful," he said.
The company is exploring product concepts and potential partnerships, including with some telematics providers that could use Cummins data to leverage their own services, as well as with certain Cummins divisions.
Many show attendees inquired about the ZED Connect ELD, Henry said. Some were looking to buy a product before the April 1 hard enforcement date, while others were dissatisfied with their first ELD or were initially unaware that ZEC Connect and a few other suppliers were offering compliant ELDs with no monthly fees.