Previously in this series: Could commercialization stem tide of rest area closures?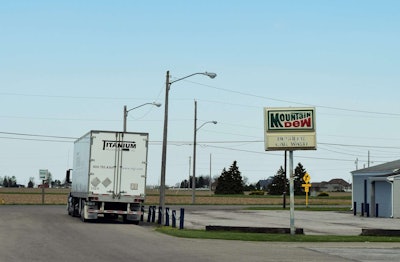 The three major truck stop chains are developing systems that allow drivers to check smartphone apps or web portals to see where parking is available.
Love's Travel Stops is testing sensors at a handful of locations, says Jon Archard, vice president of sales. "As soon as we find a technology that performs the way we need it to, it can be installed at the 400-plus locations," he says. The goal is to allow drivers to see parking availability with the MyLove's app or on a website.
Pilot Flying J has deployed ground-based radar sensors that can determine space availability. "We then collect all of those vacant or occupied signals from those locations and communicate that" through the app," says Tyler Tanaka, director of digital and innovation. "You can search for parking and then search for live parking inventory."
The technology is being tested at 31 locations. The company plans to expand the system this year, particularly at high-traffic locations, says Tanaka.
TA/Petro has taken a somewhat "low-tech approach" on gathering parking information, says spokesperson Tom Liutkus. "Our staff walks the lot and counts the open spots and sends the data in, and we'll update the app" with the number of open spots, he says. "It's pretty darn accurate."
Third-party providers such as Trucker Path, however, have their eye on a universal availability system that would allow drivers to search across all truck stop chains. The company also is trying to partner with Roady's, an alliance of independent truck stops, to implement Trucker Path's parking availability system, says Sam Bokher, business operations director for Trucker Path.
Trucker Path's platform, part of the Trucker Path app, relies on crowd-sourcing to gauge available spaces at truck stops. But "the big chains are interested" in integrating their systems with Trucker Path, Bokher says. "There are a lot of efforts to put some more accurate systems in place that show the actual number of truck parking spots" instead of Trucker Path's "proxy" info.
Though reservation systems are expanding, "it's not something that helps resolve the issue" of capacity, Bokher contends. "It helps deal with stress, because drivers know they will have a parking space, but the [underlying] issue is the number of spots available."
The anchor story in this series:
More recent-history coverage of the parking issue: