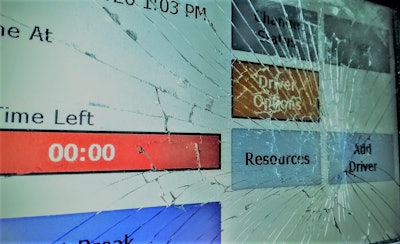 Several prominent ELD providers have said they've issued multiple software updates — with more likely coming — to help drivers manage the new options available within the federal hours of service regulations.
ELD makers contacted by Overdrive in recent days have acknowledged they're still grappling with how to execute their users' experience of the new split sleeper options in the new regs, which took effect Sept. 29, while others have reported user satisfaction with their approach to what has been a difficult nut to crack for many providers.
In some cases, initial apparent errors in ELD apps' compliance-assist tools sowed confusion among truck operators trying to use new split-sleeper options and their additional ability to pause the 14-hour clock. Software updates in some cases have already been deployed to fix those issues, while other ELD makers acknowledge the issue of updates is an ongoing process.
Trucker Adijan Hukarevic "noticed the 30-minute break change. But I wasn't able to stop the 14" on a day when he drove 4.5 hours, delivered, then "sat off-duty for 3.5 hours." Those hours, he wrote, commenting last week on Overdrive's Facebook page, were counting and depleting his 14, at least according to his ELD. Operator Ben Chancey noticed the same. Last week, he said he took a two-hour break, and "the 14 still ran out like it did before the changes."
That's certainly not the intent of the rule's split-sleeper changes — for drivers able to use splits, an at-least-two-hour break can pause the duty clock, as long as it's paired with an at-least-seven-hour sleeper period later. The paired periods, added together, must equal at least 10 hours.
ELD provider KeepTruckin, which holds a large marketshare among independent owner-operators and small fleets, reports that it is deploying a first round of what is likely to be a series of tweaks to its ELD software, which experienced the very issue Chancey and Hukarevic flagged.
Responding to drivers' and carriers' complaints that the system failed to account for the 14-hour-clock-pause value of the shorter period in its computation of available hours until a second, at-least-seven-hour sleeper berth period was taken, KeepTruckin has settled on what Baskin calls a "toggle switch" on both hours-of-service recap and driver-lock screens. The software will continue to act as it had before, but the switch will allow drivers a way to view their available hours as they would be computed "after having completed a first qualifying pair," making the assumption that a second one is coming.
Baskin acknowledged that with its initial update to reflect the hours of service changes in effect as of September 29, "it looks like we missed the mark here – what we implemented was not what folks wanted."
He added that sometimes competing concerns over the priorities of fleet personnel and driver users have added to the challenge. "A lot of fleet administrators … want to have some ways to constrict the ways that they operate. The driver wants to have as much flexibility as possible. I think we've found a good middle ground. Our bottom line was to get them the drive clock that they wanted … and figure out the rest later." The system will continue to flag potential violations between split pairs but will foreground that the violation may not ultimately stand if a split is finished.
Evans and company used the lead-in to the hours changes as an opportunity to "adjust that to give people another mechanism" that would make the system's ability to more naturally reflect a driver's intentions. Not that it functions 100 percent seamlessly, given for drivers to have the shorter period in the split to be recognized as pausing the daily duty clock, he/she must at least begin that period on the sleeper berth log line, not the off-duty line.
Ken Evans of the Konexial company, maker of the My20 app, recognized the difficulties inherent in the assumptions he'd have to program into the My20 software early on to make the split-sleeper experience as automatic as possible for the driver, with compliance-assist tools functioning correctly in real time. In pre-hours-changes versions of My20, Evans said, "we had a switch" that allowed a driver to indicate his/her intention to use a short off-duty period as part of an eventual split pair to satisfy the 10-hour break requirement. "Customers didn't like that."
"We recognized a couple things," Evans said. "One. If I'm a driver, I don't want to have to tell the software of my intent to split, I want the software to figure that out on its own. You do have to then make some assumptions – it doesn't matter which order you take the breaks in, but when someone wants to start in on a sleeper segment, we pause the clocks with a sleeper segment and then we start counting time – as long as we see a minimum of two hours of time, at the end of that, we tell the driver 'you've completed x amount toward your split.'"
Available duty hours clocks will then, also, reflect the pause value of the sleeper/off-duty period taken.
At the end of an hours of service day, "they get alerts from the system," he added, paraphrasing, "hey, keep in mind you need to complete that split" if still in between the two periods. Conversely, if a sleeper/off-duty period doesn't reach 120 minutes, the system prompts the driver that "you're ending your progress in a split,' Evans said. "Are you sure you want to do that?"
In some cases, it was the longer split option — the new, minimum seven-hour split, that created drivers' confusion within ELD apps, said David Lady, CEO of ELD maker GeoSpace Labs. "Part of the challenge was that the FMCSA was both taking away and adding options for the drivers around how the sleeper berth rules worked," said Lady. "With the new rules the driver can no longer take advantage of removing a single eight-hour (but less than 10-consecutive-hour) period in the sleeper from their 14 hour shift clock. Many drivers had been doing this for years and got frustrated that they no longer could, and some felt the ELDs were incorrectly now calculating their shifts."
GeoSpace has issued two software patches, "like many other ELD [makers]," he said, in the past two weeks to help accommodate drivers' usage patterns. "It wasn't December 2017, but we did have pretty heavy call volumes for maybe a week," Lady added. He also noticed carriers and drivers editing their logs much more than normal.
Chiefly, Lady said, ELD vendors in large part became a trainer for drivers on the hours of service regs.
Geospace has ramped up its training outreach to drivers, helping them put into use the new HOS options on Geospace's platform. "Our job is to help both sides," he said, referring to FMCSA and the trucking community.
ELD and telematics provider Geotab said the rollout of its updates related to the new HOS has gone smoothly. "We communicated any changes and updates needed for our customers well in advance, and the majority of our users did not need to do anything at all to take advantage of the new rules," said Scott Sutarik, vice president of commercial vehicle solutions at Geotab. "While we expect to continuously improve the user experience over time within our major releases, our patch rollout has been minimal and designed to correct minor … scenarios involving correcting past calculations."
Like other providers, Sutarik said most of the questions his company has received from users of its ELD app are related to use of the split sleeper options. He said drivers need to be sure their use of the split options actually complies with the new regs, or otherwise ELDs won't count attempted split-duty options. For example, he said, drivers must be in sleeper berth mode for the longer split — the minimum seven-hour. And that sleeper time has to match with at least two-plus hours off-duty, to add up to 10. Working through these issues "is to be expected until drivers become more familiar with the rules," he said.
ELD maker TruckX also said it has put out a series of videos to help train its users on how the new HOS regs interact with its ELD app.
Several truckers have reported issues with duty-time calculations from Omnitracs units. Omnitracs did not respond to Overdrive inquiries on these issues.
All in all, developers have taken a variety of approaches in an attempt to allow a binary computational software system to get as close as possible to accommodating a set of rule changes that are multi-factor, non-binary in nature and aimed at increasing flexibility.
"The previous rules were very mechanistic," KeepTruckin's Baskin said. "Now you have this other input of the intent of the driver." The inability of KT's system at present to make an assumption about whether the "vehicle is equipped with a sleeper berth," too, added difficulty to programming assumptions.
"We're getting good feedback that this makes their lives a lot easier," Evans said of My20's approach to the split, and users' experience. "A couple of carriers that use splits extensively in their operations with multiple users have reached out to say they're really happy with the changes we made" — in Konexial's case, well in time for Sept. 29. --James Jaillet and Todd Dills contributed to this report.