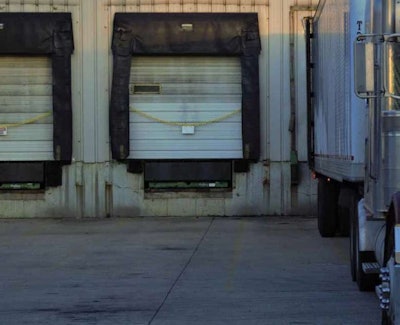 Regular Overdrive readers will recall Overdrive Extra contributor "Long Haul Paul" Marhoefer's distillation of his own participation in MIT's Dr. David Correll's podcast panel discussion with working drivers about barriers to driving-hours utilization that are pretty well familiar to anyone moving freight on the nation's highways. As noted in Marhoefer's commentary, Correll poked a bit at claims of an industrywide "driver shortage" in attempts to understand how something (drivers, in this case) can be viewed as both "scarce and under-utilized" at the same time.
Citing an average drive-time figure of 6.5-7 hours daily, based on ELD data analysis he and fellow researchers had performed, Correll sought answers from Marhoefer and other haulers in the podcast conversation, which touched on parking difficulties and more.
[Related: Truckers "scarce and under-utilized at the same time" -- how can that possibly be?]
What didn't air were Correll's team's ultimate conclusions about the biggest area where supply chains can improve to drivers' benefits. Those subsequently got very-high-profile treatment in a Congressional hearing where, taking the ATA's recently 80,000-drivers-short trumpeting at face value, Correll told legislators that number by his estimation could be reduced to zero with less than 20 minutes of added achievable drive time in an average day.
Truckers know well the best place to find that time. That's right -- at the docks, where delays run rampant. Results for our surveying of owner-operators about barriers to utilization follow.
Correll's follow-up podcast further channeled the voices of Marhoefer, Desiree Wood and Mark Cavanaugh, and plenty in the way of research findings, to show where shippers and receivers can make hay on reducing "waiting time at their facilities." That's in addition to where the things in control of carriers play into all of it at the dispatch level. It's worth a listen, or sharing with the well-intentioned among shipper/receiver warehouse traffic managers (not to mention dispatchers), but of course, when time allows:
The vast majority of you (84%) are doing better in terms of average drive time per day worked, as reported in our surveying.
What the MIT podcast didn't get much into was the No. 3 ranking factor in our own readers' named barriers to utilization -- the hours of service themselves. Flexibilities built into them, as some commenters suggested recently and as untold numbers have long urged, could have the effect of at least giving those behind the wheel greater control over their own destiny when it comes to both safety and productivity/utilization.
Commenter martindm7200 pointed out that researchers' perhaps lower-than-expected daily driving average might also be explained by cumulative duty limitations. For those who run recap hours day in, day out without a 34-hour restart, an eight-hour driving day sweet spot can be kept up not indefinitely, really, but close provided big dock delays don't throw the monkey wrench into things. Accumulate a few of those and available duty hours (70 hours in a rolling eight-day period, max) run out more quickly. In essence, the commenter pointed to a potential blind spot in researchers' view -- utilization for those who are away from home the longest isn't all about merely daily limitations.
Pointing to researchers' 6-7-hour daily average specifically, commenter rjs21037 said truckers "are being super safe," running well under the hours limits, and "the government should thank them for being so compliant."
Yet when an emergency is declared -- cross-reference here what Trucker Nation's Andrea Marks calls the longest experiment in hours flexibility ever conducted given the soon-to-be-two-years-in-place COVID-19 emergency declaration -- government "doesn't care if the trucker drives 24/7," the commenter continued. "You want to see the owner-operators run more hours? Go back to the original hour of service rules and pay them a respectful mileage rate. Start at $4 or even more per mile, then they will be making money for the outrageous investment they have to make to be in business!"
Ultimately, I know owners want the opportunity to maximize earnings with the time they have available and still have plenty leftover for needed home time, rest and everything else. Some ELD programmers and internal carrier policies aren't helping the matter when it comes to existing flexibilities within the split-sleeper berth changes to the hours of service in place since last summer.
I spoke to Robert Morgan of Ocala, Florida, late last week. Morgan noted the Samsara ELD product he's using still doesn't seem to have a very good way to account for the 14-hour-clock pause value of the shorter period of sleeper split when you start a split cycle with it. That is, "if you have three hours remaining" for both drive and 14-hour periods any given day "and you take that 2- to 3-hour break" to start the split, "it'll show you in the red" when you come back on duty as if the 14-hour clock hadn't paused. The driver-assist clock counters ultimately adjust to account for the pause value once the second qualifying, longer split is taken (or a 10-hour break). Yet faced with the prospect of being inspected before that happens ... Well, Morgan said he guessed "you've got to be really good at explaining yourself" if the officer isn't schooled on split-sleeper intricacies.
Not that he's had to do that yet, though the possibility of such a scenario clearly crossed his and other drivers' and carriers' minds. The last company he hauled for -- a 100-truck-or-so fleet, he said, out and out forbade its drivers from even using the new split, among reasons he's no longer with the company. "It's so complicated the owner said no one can use it" after internal auditing via the company's ELD system was showing violations when the changeover happened. Morgan views that as natural given both the documented difficulty many ELD makers had early on accounting for the new rules and just the generally complicated nature of the change for a lot of drivers, tough to really get a handle on until you've done it a few times.
[Related: ELD makers report ongoing problems as drivers navigate new hours options]
From a utilization standpoint, Morgan feels the new split "helps tremendously," he said. "It's ideal, it really is. I use it almost every day" to more effectively manage available time -- without wasting it as the 14-hour clock ticks away in traffic, or whatever other barrier is put in his way.
As for the reason ELD systems like Samsara's don't immediately and automatically account for the shorter period's 14-hour-clock pause value when you start a split with it, the company explains in this FAQ that the clocks are "pessimistic" in nature, "meaning that the system does not assume that a driver will take a split sleeper period at a later time." Drivers can proactively pause their assist clocks in the system with what the company calls its "Split Sleeper toggle." Drivers must enable that functionality in the app's settings, however. Read more about it all via this link. The company recommends drivers annotate their split intentions with that first period, too.
Morgan found a smaller company -- Road Shark Group, out of Illinois with 13 trucks, he said -- run by a father and son who support conscientious drivers using the flexibilities in the new rules. The example of his prior company's prohibition of split-sleeper use isn't the first one I've heard. Clearly, there's a need for either education on the regs -- or better respect for drivers, as the case may be, around the new flexibilities.
The way things are going around the nation with freight these days, the COVID waiver, and all else, those may not be the last we see.
It's clear regs, detention and parking aren't the only barriers to adequate utilization drivers see, as results above show. As noted with the first chart, most drivers selecting "Other" in answer to the question of the "most significant" barrier for them wrote in this note with their selection: "All of the above."
[Related: Where to find a 2/3-hour 14-clock pause in the new hours rule]