Jason Cannon of Overdrive sister magazine Successful Dealer has been reporting from the Work Truck Show in Indianapolis, ongoing through Friday, March 8. Find info on two new pieces of equipment he's shared below:
International TerraStar 4×4 showcased
The new TerraStar 4×4, smaller cousin to the International DuraStar, includes various commercial grade features to optimize it off-road work environments. These include 80,000 PSI frame rails fastened in place with huck bolts. A Class 8-style tilt-away hood makes for easy engine access. Find more via this link.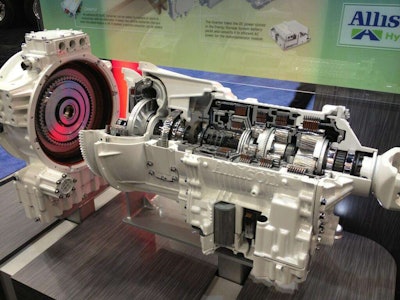 New Allison automatic hybrid-drive system
Allison showcased the new H 3000 hybrid-propulsion system for medium and heavy-duty trucks in distribution, refuse, utility and shuttle applications. Find video of the unveiling and more detail on the system via this link.
Medium-duty roof fairings available from Kenworth
Kenworth's T270 and T370 medium-duty conventionals will now come with the option of two- (for factor orders) or one-piece (for aftermarket installation) roof fairings for tractors and straight trucks with box-van bodies.
"In the heavy duty segment, roof fairings are a common sight, but not so much for medium duty fleets," said Doug Powell, Kenworth medium duty marketing manager. "We expect to see a transformation in that area."
Kenworth has a record eight trucks, including a Kenworth T270 van body, T370 4×4 and T370 dump box at the annual show, sponsored by the National Truck Equipment Association (NTEA).