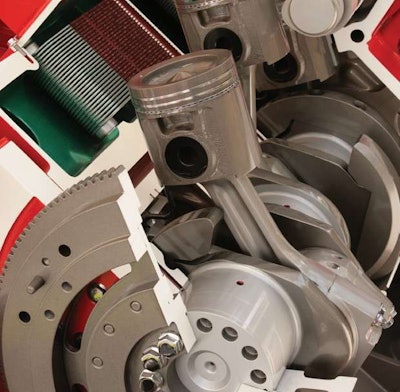 What does the future of engine oil look like for the trucking industry?
According to Shell Rotella reps at a press event in Hamburg, Germany, this week, lowering the viscosity of heavy duty engine oils is the name of the game for the foreseeable future.
Shell is vigorously testing low viscosity oil's ability to protect an engine the same way 15W-40 oil does, and so far the tests show it does, says Dan Arcy, company OEM technology manager.
The company's also conducted many tests related to fuel economy, including field trials with some major North American fleets. The three Arcy talked about this week saw gains ranging from 1.6 percent better fuel economy all the way up to 3.3 percent better.
Shell Technology Manager Keith Selby is confident in a better-than-3-percent increase, saying low viscosity oils are capable of increasing fuel economy by 3.5 percent. "So," he says, "that's the way of the future."
Lower viscosity oil makes it easier for engine parts to move around, which is what allows the boost in fuel economy.
Oil's viscosity — the thickness of the engine oil — holds the key to pushing fuel consumption down and helping engine manufacturers meet the challenges placed in front of them by federal regulations that mandate increased fuel economy for trucks and lowering carbon dioxide emissions.
Richard Tucker, Shell's GM of technology for the commercial fuel and lubricants division, said lubricant makers know lowering the viscosity of the oil (making it thinner) used by heavy duty trucks will increase fuel economy in trucks and, in turn, lower carbon dioxide emissions.
The challenge, though, says Tucker, is to ensure the oil used by the industry still does its job of keeping an engine's vital parts lubed and working properly and that it does not decrease engine life when compared to using the standard 15W-40 engine oil used today.
"How do we get lowest viscosity we can while still protecting engine? This is the challenge," Tucker says.
That challenge, though mostly focused now on working with engine manufacturers and truck buyers to educate them on the benefits of the lower viscosity oil, is not the end, says Tucker — Shell already has a team in place working on what he called ultra-low viscosity oil. The ultra-low project involves working with OEMs to determine what parts of the engine would be affected by that oil and working on ways to mitigate those effects, he says.
Arcy echoed Tucker on the challenges — and opportunities — presented by low viscosity oil.
Low viscosity oil is part of the new engine oil category — Proposed Category 11 — being developed by the American Petroleum Institute and has been in the works at API since the middle of 2011.
Low viscosity oil, however, is in many ways only half of PC-11, says Arcy. Simply, a new category was needed because of the need to increase fuel efficiency and decrease CO2 emissions, but also because of updated engine technology, he says.
The last engine oil category was finalized 10 years ago, Arcy said, and engines have changed a lot since then.
With the new category, though, manufacturers also wanted oils that could handle higher engine temperatures and with improved oxidation ability, along with improvements in preventing oil shearing and oil aeration.
Thinner oil can do all of this, Arcy says, along with the two core — and oft spoken about — functions of decreasing fuel consumption.