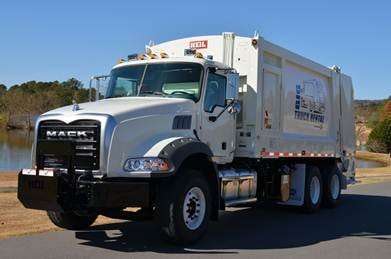 The Mack Granite Medium Heavy Duty (MHD) rear loader was introduced recently at the 2013 Canadian Waste and Recycling Expo. The MHD offers a reduced weight option for refuse companies and municipalities desiring a truck built for lighter-duty cycles, such as short inner-city routes or for service in smaller towns. Because the Granite MHD has lighter-weight components than other refuse models, it offers an economic alternative to help fleets increase their return on investment.
"The MHD rear loader is a complement to the existing Mack refuse product line," with the Mack Granite and the TerraPro Cabover and Low-Entry models, said Curtis Dorwart, Mack refuse marketing product manager.
A clean back-of-cab design of the Granite MHD accommodates a range of body options and makes the vehicle particularly well-suited to rear loader applications. Available in 4-by-2 or 6-by-4 configurations, the truck is equipped with a Cummins ISL9 345- hp engine with a maximum torque rating of 1,150 lb.-ft. In 4-by-2 configuration, the vehicle is a Class 7 truck.
Improve driver comfort options include a cab mounted on airbags and shocks. With a short bumper-to-tire distance, the MHD has a superior front-end swing clearance and a wheel cut that allows it to maneuver in and out of tight collection sites.