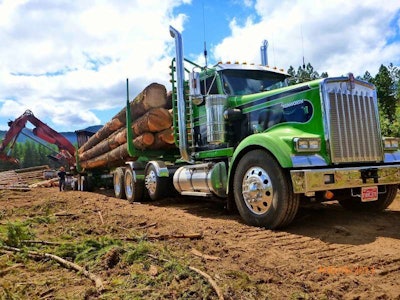 Last year, Dan Pardovich and his brother, Ryan, took the engine and transmission from a donor truck and built the W900L glider pictured here. The pair "ran a couple loads just to set the scales and put it through its paces. Next day we gave it to the driver and haven't had any problems since." Kenworth offers glider kits for the T660, T800 and W900L models, in all sleeper sizes. Kenworth glider kits feature the latest amenities and updates in each of the three models.
The Pardovich family has owned and operated PER Trucking out of Elmira, Ore., since 1980. Originally a diesel engine rebuilding shop – Precision Engine Rebuilders – PER evolved into a log-hauling fleet around 1985 with the help of an old Kenworth.
"One day my father came into the shop and said he saw an old logging truck sitting in a field," recalled Dan Pardovich, who joined the family business in 1983 while a junior in high school. "He told us to see if we could buy it and rebuild it between engine jobs. After we rebuilt it, a logger called and said, 'I hear you have a logging truck. Do you want to haul logs?'"
Today, the company operates a fleet of 21 Kenworths (T800s and W900s), and Pardovich estimates he and his brothers have rebuilt 35 Kenworths all told over the years.