Updated May 12, 2021, to reflect current Overdrive reader poll respondents' use of varying levels of automation in transmission equipment.
When this story was written in 2013, it asked this question about automated and automatic transmissions in over-the-road trucking: "Will they finally be able to make a strong inroads?"
According to poll results this April and May, Overdrive readers, most of them owner-operators, answered with something along the lines of not so much: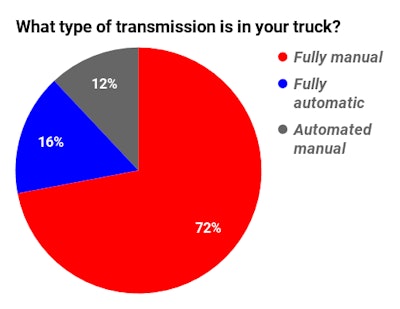 Dan Musselman elucidated one aspect of owner-operators' continued favor for manual transmissions in OTR applications -- the control a manual affords a driver to effectively tackle all manner of terrain. Preference for automated or manual "depends on the application" for Musselman, he said, commenting under a post at Overdrive''s Facebook page. For basic highway use, his preference might be for "an automatic, but for off-road or mountain use I'd prefer manual."
Such brass-tacks sentiment is far form the "if you can't shift, you can't drive" attitudes of yore. When the issue of automatic-only training reared its head in 2014, most readers believed manual training a necessity for any CDL driver.
Other readers expressed softening attitudes around automatic transmissions' use in their applications in response to this most recent polling, too. "I've been in the industry over 33 years and I'm tired!" exclaimed Joyce LeBlanc, expressing automatic preference for her highway operation. "No more yelling over the CB to borrow anyone's left leg!"
Tom Cleghorn prefers a manual and spent 20 years with mostly 10-speeds, he said, yet the company where he hauls is buying all automated manuals. While he said he wasn't sure about them at first, he's "getting used to them" as technology feels like it has improved. The company is running Detroit DT12s, "and they aren't too bad."
On the other hand, it's still not hard to find extremity in anti-automatic sentiment. An anonymous commenter recently remarked he'd "rather drive a horse and carriage than to ever drive an automatic."
What has changed is technology, at least as it relates to manufacturers' refinement of their systems over time. That's evidenced in fleets like Cleghorn's increasing choice of automated transmissions when ordering new equipment, among so many others.
"More than 217,000 Volvo trucks have been sold with the Volvo I-Shift since its launch" in North America 15 years ago, the company said of its automated manual this week, attendant to news of the 15th anniversary. In 2015, according to this report, as much as 88% of new truck orders were spec'd with the I-Shift.
Clearly, such high rates aren't reflected in owner-operators' own uptake of automated transmissions.
Following find a variety of reporting on transmissions' development over the last eight years, followed by then-Equipment Editor Jack Roberts' feature on manufacturers' move toward AMTs and automatics originally penned in 2013, a fascinating look at transmission technology's development at a crucial moment in time -- as companies moved to pair AMTs more closely to their engines with sophisticated communications between the two:
[Related: 'If you can't shift, you can't drive!' Readers react on transmission transition in driver training]
[Related: What's the know about downspeeding engines with the right transmission]
[Related: Paccar's 2017 unveiling of 12-speed automated transmission paired with MX-13]
[Related: Cummins/Eaton's 2017 automated transmission partnership]
[Related: The Mack mDrive, as of 2015]
Find more via the "transmissions" search page.
The 2013 feature, originally titled "Manual v. automated transmissions: Data-driven tech better than complete control?"
Adapting automatic transmissions for use in trucking has proven to be difficult. One reason was the inability of mechanical engines and transmissions to "talk" to one another and ensure optimal vehicle performance across a broad array of applications and road conditions.
Early transmissions had a hard time figuring out what drivers wanted. Complaints concerning both frequent and uneven shifts were common, as were problems with "searching" – when transmissions would struggle in hilly terrain to find and stick with an optimal gear. Other problems along those lines emerged at low speeds – in traffic and while docking.
Even so, AMTs continued to make inroads in trucking. Now, engines and transmissions are sharing more data, so performance issues are getting smoothed out. AMTs now are being spec'd on a significant share of new trucks for reasons including fuel economy and easier driver training – and the trend is likely to continue.
Two types of automatic transmissions are available for heavy-duty trucks: Automated manual transmissions and automatic transmissions. Both are two-pedal designs, and most drivers probably would be hard-pressed to tell much of a difference between them in real-world driving situations.
The basic difference is that automated manuals are manual gearboxes, with all the clutch actuation and gearshifts handled by electronically controlled systems. True automatic transmissions feature planetary gearing with disc packs for clutches and torque converters.
"In this context, an automatic for a Class 8 truck is usually fully automatic, like a typical car transmission, with planetary gearing with several multidisc packs for clutches," says Ed Saxman, product marketing manager with Volvo Trucks North America. These transmissions have a torque converter to enable powershifts of the planetary epicyclic gearing units that provide the various gear ratios.
An automated manual transmission uses the gearbox of a manual transmission and shifts it by computer, using a computer-operated single large-diameter disc clutch, otherwise similar to a manual clutch.
Allison Transmission's automatic is designed with the company's Continuous Power Technology, meaning it never interrupts torque and power to the wheels, says Steve Spurlin, executive director of international application engineering and vehicle integration. "It also uses a torque converter as the starting device," he says.
An automated manual has incorporated electronic controls with basic manual transmission architecture to facilitate automated shifting of the gears and the input clutch-starting device. Both the automated manual and the basic manual interrupt power and torque every time a shift is made, whether automated or manually, Spurlin says.
According to Steve Rutherford, powertrain marketing manager for Caterpillar OEM Solutions Group, the advantages of a pure automatic design are a perfect fit for the company's vocational truck line – although he points out that both types of transmissions work well in specific applications.
"Both types of transmissions have two pedals and a shift pad instead of a gearshift lever," Rutherford says. "It took a lot of work to perfect automated manuals to engage a dry clutch and generate well-synchronized shifts. What they've done with those products is amazing."
But many drivers – primarily older ones – feel that automatic transmissions somehow detract from a skill set they've honed over decades. "I'm a truck driver, not a steering wheel holder," says Carl Ciprian, a driver with Fayette, Ala.-based N&N Transport. Ciprian never has driven an AMT and says he never will, preferring to stick with an Eaton-Fuller 18-speed manual gearbox.
"I can understand why fleets like AMTs," he says. "It's all about fuel economy. You know – 'Instead of teaching new drivers how to drive, just give them all an automatic transmission, and turn them loose on the highway.' "
Ciprian, however, sees truck driving as a skill – one in which a truck driver needs to be engaged to do it properly. "Changing gears, and having the additional control over the vehicle that a manual transmission gives you, is an integral part of that," he says.
But fleets are gravitating toward automatic transmissions – and in surprisingly high numbers. David McKenna, director of powertrain sales for Mack Truck, says the mDrive's take rate in Pinnacle tractors is currently in the neighborhood of 38 percent, which aligns with other OEMs that report figures ranging from 35 percent to the low 40-percent range.
In some medium-duty applications, AMTs now are spec'd in more than half of new trucks sold. Saxman says that more than 50 percent of all new Volvos sold this year have been spec'd with the company's I-Shift AMT.
There are several reasons for this significant shift, experts say. Shane Groner, Eaton's manager of NAFTA product development, says his company's UltraShift Plus AMT now is enjoying a 25 percent take rate in heavy-duty trucking applications, with on-highway applications logging in at about 15 percent.
"There are still a lot of highly experienced drivers out there who can get the most out of a manual transmission," Groner says. "Those gearboxes are essentially bulletproof. If you're a fleet and you're blessed with an abundance of experienced drivers, and upfront costs are still your primary expense driver, then it's hard to argue with manual transmissions."
On the other hand, Groner says, driver skill sets in the industry are changing rapidly. "Many young drivers have never driven even a car with a manual transmission, so they lack even basic familiarity with them," he says. "The driver demographic is changing. Older drivers are retiring, and they are not being replaced."
For fleets, though, the appeal of automatics goes far beyond driver preferences, with safety and fuel economy topping the list. "We've found that automatics help with driver recruitment and retention," Spurlin adds. "Automatics allow less-skilled drivers to be very productive. They are also a large help with safety because the drivers can stay focused on the road or the task at hand instead of shifting gears." Also, drivers do not get as fatigued with an automatic since they do not have to shift gears constantly, he says.
"We have encountered many 'converts' – veteran drivers who were once skeptical but now prefer our I-Shift automated manual transmission," Saxman adds. "Manual transmissions are difficult to 'skip,' and most drivers use all 10 gears."
In contrast, Saxman says, AMTs like the Volvo I-Shift can reach top gear by using just six of 12 available forward ratios. "Fewer interruptions mean faster acceleration," he says. "As far as fuel efficiency, it is often said that an automated transmission can make the worst driver deliver the same fuel mileage as the best driver, because it's in the right gear at the right time – all of the time."
Brad Williamson, powertrain marketing manager for Daimler Trucks North America, says the way fleets spec a drivetrain is changing and that automatic transmissions are a key part of that formula. "The industry at large is now spec'ing lower gear ratios, with direct-drive powertrains becoming more common," he says.
The concept of "downspeeding" – operating a diesel at lower rpms while at cruise speeds – is being driven by the push for better fuel economy, Williamson says.
"Information is key," he says. "If you designed both the engine and the transmission, then they can 'talk' to one another and share critical information, like what the driver wants, the fuel map, the load, the grade and what the engine is trying to do. The transmission can manage all this information and deliver the best performance possible given all those criteria. A driver just can't do that consistently. Even if they had all that information, they couldn't process it and manage the shifts to deliver the same level of performance an automatic transmission can."
Williamson's point addresses the latest development in the evolution of automatics in heavy-duty trucking: complete powertrain integration. To date, Volvo, Mack, Daimler and Eaton – via a just-announced partnership with Cummins – all have developed highly integrated powertrains that share unprecedented levels of proprietary information between the engine and transmission to deliver consistently optimal fuel economy at all times.
"It all boils down to the electronics," McKenna says. "When you have Vendor A supplying an engine and Vendor B supplying a transmission, rarely do those two components share 100 percent of their information 100 percent of the time. Typically, the transmission in those instances ends up making decisions with about 75 percent of the data it needs to make an optimal shift."
The 2013 story originally came in two parts. Here is the original second piece: Will drivers come around on automatic transmissions?