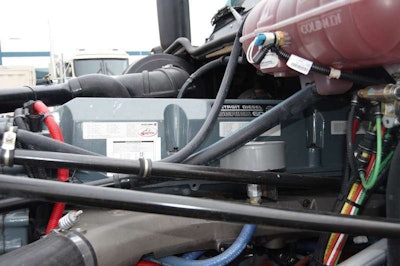 Note: This story is part of a larger package on glider kits and their viability for owner-operators. Click here to see the main story.
Glider kits can give owner-operators an easier, cheaper way to delve into natural gas power than buying a new dedicated truck off the lot, says Lyle Jensen, chief executive officer of American Power Group, which works with glider kit makers and truck buyers to employ a dual-fuel system.
A glider kit that employs the dual-fuel system runs about $50,000 less than a new truck fully powered by natural gas.
The system is installed at the end of a glider kit build and costs about $30,000, which can be financed either with the truck or separately through APG. The system allows the engine to burn a mixture of natural gas and diesel, but the engine still can run exclusively on diesel if natural gas is not available.
Jensen says the devices can save owner-operators between $1,000 and $2,000 a month in fuel, given natural gas' price. The system costs between $700 and $850 a month on a 48-month lease, depending on a buyer's credit history, Jensen says. Buyers then have the option to purchase the system by paying the remaining balance at the end.
But the system has a 20-year life and can be moved from truck to truck, so savings can continue to be seen well after the two-year installment payments are up, Jensen says.
Both Fitzgerald and Ervin's collaborate with APG on the system, which is installed through the WheelTime network.
The system includes a natural gas fuel tank, hoses and other components to route natural gas and inject it into the cylinders, and installation.