As 2014 began, it became apparent to Blue Max Trucking president Denton Williams that contractors around its Charlotte, N.C., headquarters were set to ramp up commercial and public construction projects, its primary business as a mostly dump truck fleet. As a result, Blue Max invested in additional capacity in fairly aggressive fashion, purchasing 42 units of Kenworth heavy haul flagship, the T880.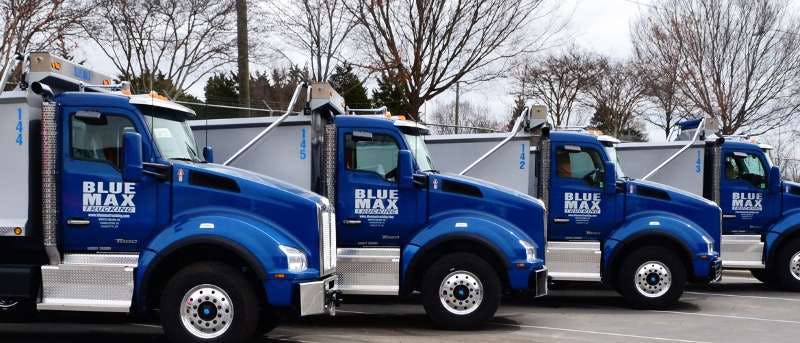 "For some time, a persistent sales rep from the MHC Kenworth dealership in Charlotte kept asking me to give a good look at Kenworth's new vocational truck," Williams says. "We wanted a truck that offered drivers a comfortable work environment and could lower our fuel bills. We also wanted a truck that would reflect well on our company's image and would be supported by a network of reliable dealerships."
The MHC Kenworth Charlotte location invited Williams out for a customer event in Phoenix where he formed first impressions of the T880, driving on a test track and off-road course. Impressed by the visibility and handling characteristics, Blue Max spec's 38 dump bodies and 380-hp PACCAR MX-13 engines, providing 1,450 lb.-ft. of torque driven through Allison 4500 RDS 6-speed automatic transmissions. The remaining four T880s are tractors equipped with 455-hp PACCAR MX-13 engines and 10-speed Eaton UltraShift Plus transmissions. Blue Max Trucking took delivery of the trucks starting in April 2014. 
Blue Max operators deliver aggregate, equipment, pre-cast concrete and building supplies for construction projects such as airport runway additions, highway widening projects and stadiums. The company, with 275 power units all told, operates from two locations (Charleston and Myrtle Beach, S.C.) in addition to its Charlotte headquarters.