Kenworth recently provided test drives of its new T880 40-inch sleeper at its assembly plant in Chillicothe, Ohio. The T880's Paccar MX-13 engine, coupled with an Eaton Fuller 18-speed vocational Ultrashift Plus automated transmission, made easy work of 55,000 pounds of concrete blocks on a flatbed.
To assist in curbing, creeping, paving and spreading, the Ultrashift Plus features extended-low and reverse gear-ratio coverage. Deep-reduction and fast-reverse gearing are additional hallmarks, along with auto-neutral and hill-start aid. When taking on power-takeoff minimum and maximum drive gears, the transmission uses all transmission gear ratios.
The 40-inch sleeper joins Kenworth's midsize 52-inch and full-size 76-inch models. "It's predominantly a vocational type of sleeper targeted at the oilfield industry, towing and recovery and bulk haul applications," said Kurt Swihart, marketing director. If the sleeper's fenders are damaged, they can be unbolted quickly and traded out for new ones.
The 40-inch sleeper with a 219-inch wheelbase has been designed with weight savings in mind, thanks to its aluminum cab coupled with stamped aluminum doors. Compared to the midsize 52-inch sleeper, the 40-inch cab shaves 260 pounds.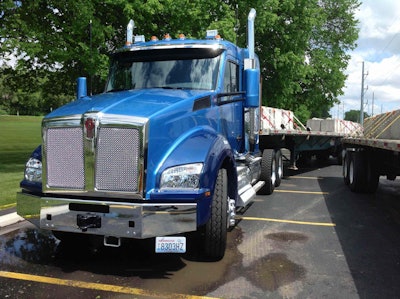 To lighten the load an additional 400 pounds, customers can substitute the new MX-11 engine for the MX-13. The MX-11 has 430 horsepower and 1,550 lb.-ft. of torque, while the MX-13 offers 500 horsepower and 1,850 lb.-ft. of torque.
Swihart said while the MX-11 is being spec'd mostly by concrete customers, the engine is suited for any application seeking to reduce weight, including dump, bulk haul, less-than-truckload, pickup-and-delivery and regional haul.
The company also launched a new suspension option: Hendrickson's Ultimax, a heavy-duty system rated for applications above 46,000 pounds. "It's for customers who are looking for very good roll stability, high-center-of-gravity types of applications," Swihart said. "We think that's going to be a nice option for vocational customers as well."
The T880's interior projects a toned-down back-to-basics utilitarian look – air suspension seats notwithstanding. However, those hungering for more technology can pull up electronic gauges and more that can be enlarged on a dash-mounted screen for easy readability. Cobra's 29 Sound Tracker CB is available factory-installed with or without weather radio.
Other new options for the T880 include a diesel exhaust fluid tank mounted under the cab, providing a clear back-of-cab and opening up the rails for various component mounts.
Swihart said though Kenworth still will continue manufacturing its narrower T800, customers are moving to the wider T880 that has become the company's flagship vocational model, accounting for about 30 percent of total sales.