It's no surprise that violations for brakes are among the most cited, given their constant wear and critical safety role. While that's enough reason to keep them in shape, another big motivator is cost.
"A breakdown is a tremendous loss of productivity, efficiency and uptime," says Randy Petresh, vice president of technical services for Haldex.
The cost of a brake-related mobile service repair easily can exceed $1,000, and that's assuming you don't need a tow, says George Bowers, director of maintenance operations for Ryder.
"If the officer deems the unit unsafe, towing will most likely be required," he says.
As repair bills and downtime mount, independents consistently cited for violations also risk scaring off potential business.
Another potential cost reduction is extending the brake system's life. "Issues identified through inspection might eliminate accelerated wear, brake component damage and damage to other components in the system," says Keith McComsey, director of marketing and customer solutions for Bendix Spicer Foundation Brake.
Jon Morrison, president of Wabco Americas, says out-of-adjustment drum brake concerns account for nearly half of out-of-service violations.
Pre- and post-trip inspections are critical for identifying issues before violations occur. Obvious red flags include rust streaks, air leaks, oil stains, air lines rubbing on crossmembers or frame rails, bad or missing gladhand seals and brake components that are worn, missing, broken or loose.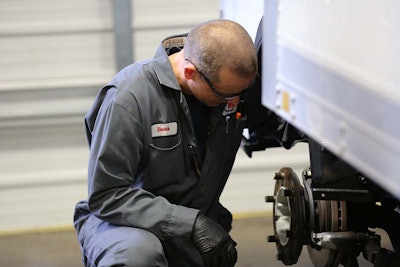 "Look for rust streak marks on brake components, which usually means loose components," Bowers says. "If the backing plate or wheel seal area starts to show signs of oil," it should be addressed immediately to prevent shoe damage.
It's important to look beyond the obvious signs of problems, says Kevin Pfost, coordinator of technical service for Bendix Spicer Foundation Brake.
"Take a look at components such as air chambers that may be corroded or severely rusted," he says. "Check the air system for contamination or water. Look for loose parts like chambers, the slack adjuster, brackets and air lines that may be hanging low and may hook on road debris."
Matthew Mendy, product segment manager for Daimler Trucks North America Aftermarket, suggests building pressure in the air system while keeping the parking brakes applied, then walking around the truck to listen for leaks.
"Look at the air gauges to see if the compressor is building correctly," Mendy says. "Check to see if the ABS or electronics components warning lamp is illuminated." A slack adjuster with an excessive stroke may indicate an out-of-adjustment wheel end and a possible worn shoe, he says.
"Most of the time, you can hear (air leaks), and they are indicative of a lot of things," Petresh adds.
Morrison advises inspecting the pad thickness visually or measuring caliper position with a ruler, and inspecting the rotors for cracks every four to six months.
"This also helps reduce potential hard-part failures," he says.
Petresh reminds trailer owners not to overlook that equipment. "Spring brake issues on trailers pop up because trailers don't get a lot of the maintenance they should get," he says. "If it feels like the trailer is pushing the tractor, there's a problem on the trailer side."