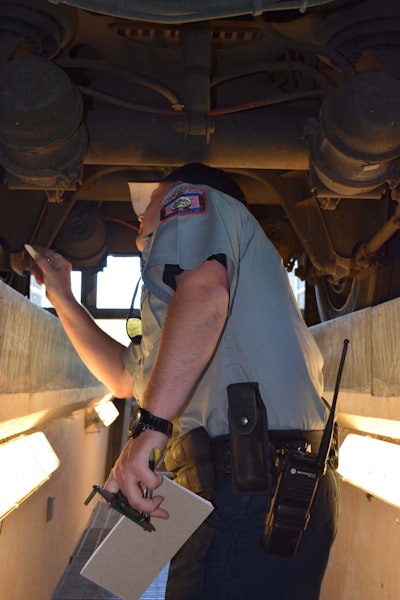 Inspectors will be keying in on brake safety this week, as the Commercial Vehicle Safety Alliance's Brake Safety Week takes place Sept. 11-17.
Across North America, law enforcement agencies will conduct inspections on commercial vehicles to look for out-of-adjustment brakes and brake system and anti-lock braking system violations during the week.
Specifically, CVSA says inspectors will be looking for "loose or missing parts, air or hydraulic fluid leaks, worn linings, pads, drums or rotors, and other faulty brake system components." Inspectors will also be checking ABS malfunction indicator lights to make sure they're in working order, CVSA says. Defective or out-of-adjustment brakes will result in the vehicle being placed out-of-service.
Most inspections occurring during the week will be full Level I inspections, according to CVSA, and 10 jurisdictions will be using performance-based brake testing to measure braking efficiency.
"CMV brakes are designed to hold up under tough conditions, but they must be routinely inspected and maintained carefully and consistently so they operate and perform properly throughout the vehicle's life," CVSA says. "Improperly installed or poorly maintained brake systems can reduce braking efficiency and increase the stopping distance of trucks and buses, posing serious risks to driver and public safety."
During 2015's brake inspection spree, inspectors conducted 18,817 inspections and placed 2,321 of those trucks out-of-service – or 12.3 percent.
Brake Safety Week is part of CVSA's Operation Airbrake program in partnership with the Federal Motor Carrier Safety Administration.