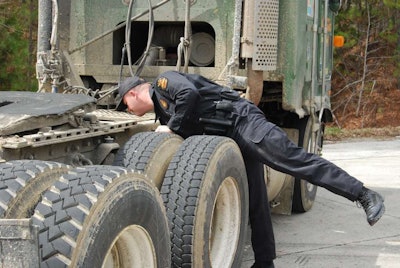 The results are in from this year's Commercial Vehicle Safety Alliance Brake Safety Week held Sept. 6-12, and inspectors placed 2,321 of the 18,817 vehicles inspected out-of-service during the week for brake violations – a 12.3 percent out-of-service rate.
CVSA and its affiliate inspectors targeted out-of-adjustment brakes and brake system violations during the week-long campaign.
The OOS rate for all brake-related violations was 12.3 percent, compared to 16.2 percent in 2014. The OOS rate for brake adjustment was lower at 7.7 percent, compared to 10.4 percent last year. The OOS rate for brake components was 6.9 percent, down from 9.3 percent in 2014.
Inspections during the week included inspection of brake system components to identify loose or missing parts; air or hydraulic fluid leaks; cracked, damaged or worn linings, pads, drums or rotors; and other faulty brake system components. Inspectors also checked anti-lock braking system malfunction indicator lamps, inspected brake components and measured pushrod stroke, where applicable.
"For everyone's safety, it's vital that every vehicle operating on our highways and roads is mechanically sound and properly maintained," said Federal Motor Carrier Safety Administration (FMCSA) Acting Administrator Scott Darling. "We thank the CVSA members across North America for their longstanding strong partnership, for their professionalism and their dedication toward protecting the motoring public each and every day."