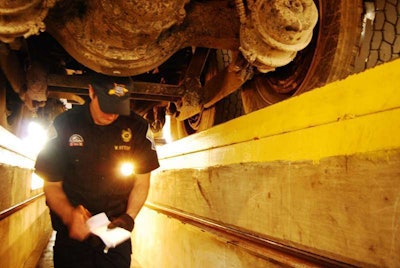 Nearly a quarter of the 44,989 trucks hit with a Level I inspection during the Roadcheck 2015 inspection blitz in June were placed out-of-service, according to numbers reported Sept. 28 by the Commercial Vehicle Safety Alliance. CVSA inspected just shy of 70,000 trucks and buses in total.
CVSA said 44,989 of the inspections were North American Standard Level I inspections. Of those, 1,623 drivers (3.6 percent) and 9,732 of vehicles (or 21.6 percent) were found with out-of-service violations. CVSA says these are the lowest rates since CVSA began keeping the data in 1991.
Brake system violations were the leading cause of vehicles being put out-of-service with 27.5 percent of vehicles inspected were found to be in violation. Brake adjustment violations resulted in 15.5 percent of trucks being ordered out-of-service.
For drivers, the leading out-of-service violation was hours-of-service violations, which resulted in 46 percent of the out-of-service orders handed to drivers.
Shipping papers (27.5 percent) and placards (23.9 percent) were the leading causes of hazardous materials out-of-service violations.
In 2014, 4 percent of drivers and 23 percent of vehicles were ordered out-of-service in Level I inspections, while 4.3 percent of drivers and 24.1 percent of vehicles were ordered out-of-service in 2013.
During International Roadcheck 2015, held June 2-4, an emphasis was placed on reminding carriers about and enforcing regulations on proper load securement. During the event, inspectors issued 2,439 violations for load securement.