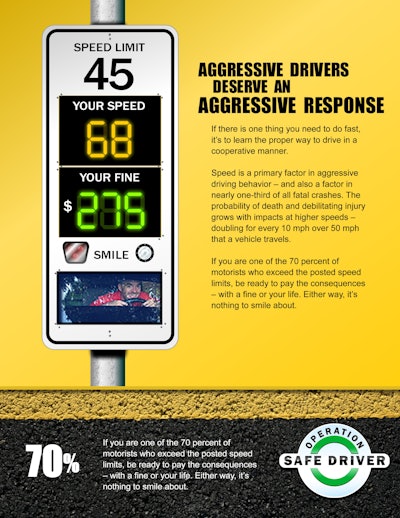 The Commercial Vehicle Safety Alliance will hold its annual Operation Safe Driver Week this week, Oct. 18-24.
Law enforcement agencies across North America are engaging in heightened traffic safety enforcement and education aimed at unsafe driving by both commercial motor vehicle drivers and car drivers.
During Operation Safe Driver Week, activities will be held across the United States, Canada and Mexico to increase enforcement of traffic laws, roadside inspections and regulatory compliance.
Law enforcement and transportation safety officials will offer also educational and awareness safety programs to commercial and non-commercial drivers.
Last year during the week-long campaign, enforcement officers pulled over 59,080 commercial vehicle drivers and car drivers for unsafe driving. Data was collected by 4,337 enforcement officials at 1,549 locations across the United States and Canada.
The top five warnings and citations issued to CMV drivers were speeding, failure to use a seatbelt, failure to obey traffic control devices, improper lane change and following too closely.
Click here more information about CVSA's Operation Safe Driver program.