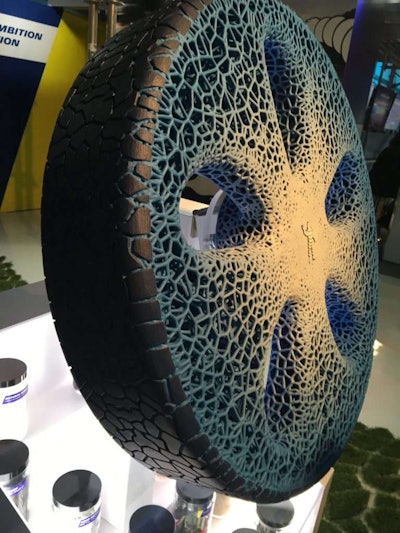 Michelin on Wednesday debuted its airless, connected, "rechargeable", customizable and all-organic concept tire.
A wheel integrated with a tire, Vision – which Michelin rolled out at its global summit for sustainable mobility in Montreal – was produced through a design process and co-constructed with users from bio-sourced and biodegradable materials.
"It's inspired by nature with a very light, efficient structure," says Terry Gettys, Michelin's executive vice president of research and development.
Among the materials used in Vision's construction are bamboo, paper, molasses, tin cans, wood, electronic waste, plastic waste, hay, tire chips, used metals, cloth, cardboard, orange zest and natural rubber.
3D printers allow designers to apply a precise amount of rubber on the tire, thus extending its life depending on needs. Tread design is optimized and depth reduced in order to reduce its thickness and make the tire more efficient in terms of materials. The tread design is adapted, in accordance with the user's mobility needs.
An airless tire, Vision can neither explode nor blowout. It relies on an interior architecture capable of supporting the vehicle, while also ensuring the solidity of the wheel and guaranteeing both comfort and safety. The tire's architecture is based on an alveolar structure that was developed through advanced modeling, solid in the center, flexible on the outside.
The connected tire is equipped with sensors that provide real-time information about its condition. Through Michelin's mobile app, it's possible to make an appointment to change the tire's destination, depending on the user's needs. A change in usage – for example, to snowy conditions – is done via 3D printing.