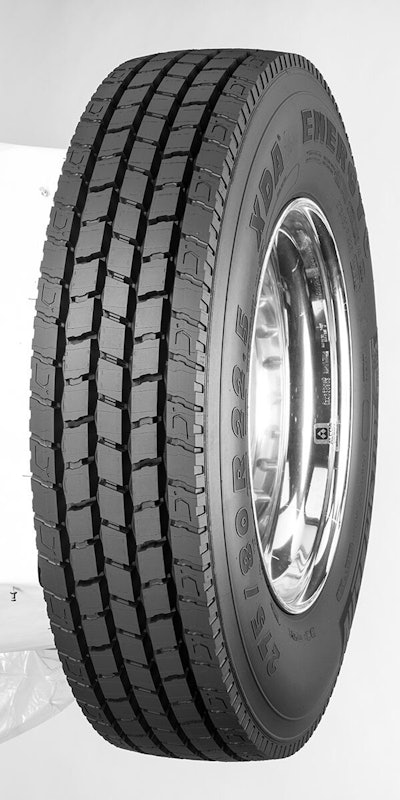 Michelin introduced a new dual-drive, line-haul tire Wednesday at the North American Commercial Vehicle Show in Atlanta. The tire's focus is improved fuel economy, the company says.
The XDA Energy+ replaces XDA Energy, featuring the same tread design but with an improved tread compound. The XDA Energy + features wide circumferential grooves for efficient water evacuation and grooved, angled walls to help resist stone retention that can lead to stone drilling that potentially damages the casing. The sidewall also features TW6 OzoneShield technology for increased protection against weathering. The tire features a durable Michelin casing capable of supporting multiple retreads.
"This product, first and foremost, is about delivering fuel efficiency," says Adam Murphy, Michelin Truck Tires vice president of marketing. He says the tire can save operators upwards of $400 annually per truck in fuel versus a competitor through a 7 percent improvement in rolling resistance.
For carriers willing to commit to a three month evaluation of the tire, Murphy says Michelin will offer a $400 credit for the trucks who aren't on track to realize the fuel savings. There is no fleet size requirement to take advantage of the audit, he adds.
"We're here to serve smaller fleets. We're here to serve larger fleets," he says. "Everybody has the same access to the benefit."
The tire will be available in 275/80R22.5 size in load range G.
Also Wednesday, Murphy announced Michelin has added a 275/80R22.5 low-profile size of its X Multi D to its lineup, replacing the XDE M/S with an additional 65 percent improvement in mileage.
The X Multi D line originally launched in July and the newest entry targets regional, less-than-truckload, pick-up and delivery, food and beverage and other vocational segments.