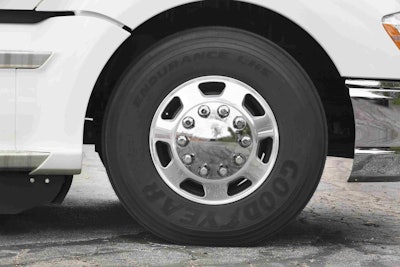 Goodyear on Wednesday introduced the newest addition to its Endurance lineup, the Goodyear LHS (long-haul steer) tire.
The companion to the Goodyear LHD (long-haul drive) tire, the SmartWay-verified Goodyear LHS will replace the G399A but will feature the same trade design and geometry. Goodyear marketing manager Mahesh Kavaturu says the Endurance LHS will feature new tread and casing compounds to extend service life and provide a more consistent tire footprint.
"We're going to use tread compounds for miles to removal and casing compounds to improve fuel economy," Kavaturu says. "We are eliminating the trade-out that you see in tires. Typically, when you get mileage you have to comprise in fuel [mileage] and vice versa."
The new tire will also phase out the three-layer tread compound used in the G399A in favor of a dual-layer tread, which Kavaturu says slows down wear while also providing a more even wear.
The Goodyear Endurance LHS is available in the following sizes: 295/75R22.5 (Load Ranges G and H): 11R22.5 (Load Ranges G and H); and 11R24.5 (Load Ranges G and H). An additional size, 285/75R24.5 (Load Ranges G and H), will be available next month.