Trucking news & briefs for Tuesday, June 1, 2021:
Autocar launches new Badass Class 8 dump model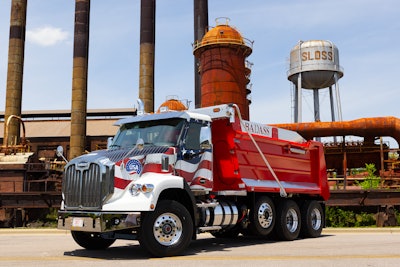 Autocar introduced its Badass truck line last week, the fourth iteration of the company's DC-64 severe-duty Class 8 trucks. The Badass DC-64D is a dump model that joins the DC-64R refuse, DC-64M mixer and DC-64P pump.
"The DC-64D is expertly configured and solves many industry issues not addressed by other suppliers," says Eric Schwartz, president of Autocar Truck. "Unlike any other vehicle in the North American heavy-duty commercial truck market, Autocar Trucks are vocational pre-engineered for seamless body integration and don't require significant structural modifications. As such, our trucks are safer, more structurally sound and are engineered to have a longer life, which lowers the TCO (total cost of ownership) and adds to our Always Up promise. This dump truck is truly Badass."
The DC-64D has been configured with more than 100 improvements. Autocar partners with dump body manufacturers for parallel engineering of essential dump body mount features. The truck is outfitted with an RS Godwin SCS dump body and features Hardox steel for durability and lighter weight, which leads to additional payload capacity.
Inside the cab, a 7-inch driver information smart display is designed to help minimize driver distraction and help technicians quickly get drivers back on the road after maintenance. Autocar has the only 325-degree all-around driver visibility. It has 30% more glass than industry competition and is the only Class 8 vocational truck with rear-corner wrap-around windows to improve the rearward view. The front end is sloped to also enhance visibility.
The DC-64D, assembled in Birmingham, Ala., is available now with the Cummins L9, X12 and ISX12N CNG series engines. The X15 will be available in 2022.
UltraLoft sleeper configuration available on Pete 567
Peterbilt Motors announced the availability of the Model 567 in an UltraLoft sleeper configuration, making the 567 potentially more spacious with an integral sleeper option for customers that enjoy its traditional signature pod-mounted headlamps, Metton hood and stainless steel grille, the company said.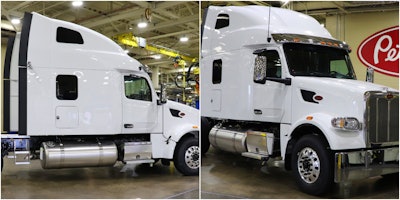 Recent interior updates to the Model 567 include the 15-inch digital display with a fully customizable user interface to deliver easy-to read information and full PTO integration. Additional new driver comforts found inside include more cabin storage, two permanent cup holders and options for 12V or USB charging ports.
Kenworth adds 52-inch flat roof sleeper option
Kenworth has added a 52-inch flat roof sleeper for the T680, T880 and W990 models for applications that may require a low roof, like crane, pump and car haulers.
The W990 added a righthand side horizontal tailpipe under the DPF/SCR to match the current T680 and T880 offering. An under rail DPF/SCR exhaust system is also available on the T680 and T880 models.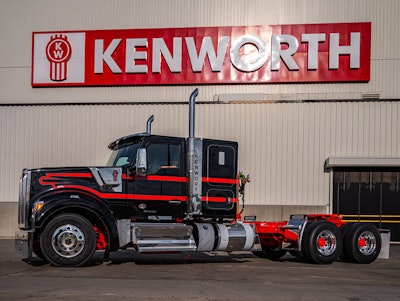 To further reduce overall truck height (the Kenworth AG400L rear suspension's new 6.5-inch ride height is two inches lower than previously available) the set forward front axle Kenworth W990 and T880S models have a 5-inch drop front axle option that lowers the front of the truck by 1.5 inches over the standard 3.5 inches drop. Kenworth low-profile tire options include 275/80R22.5 front tires and 255/70R22.5 rear tires, 295/60R22.5 front and rear tires. The smaller 22.5-inch diameter fuel tanks allow for maximum ground clearance.
Marker lights, beacons, airhorns and vertical stacks are also available, making the Kenworth 52-inch flat roof sleeper an option for image-conscious fleets and truck operators.
The 52-inch flat roof sleeper model is equipped with the new 2.1-meter wide cab. Key features include fully trimmed premium interior, 56-inch interior cab height, triple-sealed door for a quiet ride, 15-inch Digital Display, Kenworth SmartWheel® available with cruise and radio control on the steering wheel, and under door light which illuminates the steps and ground. Also available are the latest driver assistance features, including adaptive cruise control and collision mitigation.
In addition, remote PTO controls are available from the factory for easy upfit and a full truck kit provides air and light lines to the end of the frame.
Bridgestone intros new long-haul steer tire
Bridgestone Americas is expanding its fuel-efficient Ecopia commercial truck tire line with the introduction of the new Bridgestone R213 Ecopia long-haul steer tire.
The company says the tire delivers one of the industry's strongest combinations of wear and fuel performance, providing more miles and a lower total cost of ownership. Featuring directional edge sipes to resist scrub and offer up to 15% longer mileage, the Bridgestone R213 Ecopia outperforms the previous-generation Bridgestone R284 Ecopia tire.
Additionally, a redesigned tread pattern paired with an innovative compound reduces tire weight, improving rolling resistance and fuel efficiency by 6%.
The tire, which is EPA SmartWay verified, will be offered in eight variations – with four sizes and two load ranges per size – at Bridgestone authorized dealers in the U.S. and Canada.