Trucking news and briefs for Thursday, Sept. 23, 2021:
Oregon doubles fines for ignoring chains laws
The Oregon fine for trucks failing to use chains when required is rising this fall under a new Oregon law taking effect Sept. 25, Oregon DOT announced. The new fine for failure to use chains in Oregon will be $880.
Oregon law requires all commercial vehicles to carry chains whenever road conditions might require their use during your trip and signs are posted.
The law also requires vehicles to chain up when signs tell you that conditions ahead require them.
New version of ComfortPro APU runs in Li-ion battery power
Carrier Transicold's new ComfortPro electric model delivers double the air-conditioning runtime provided by some competitive conventional battery-powered auxiliary power units, with its new extended-capacity lithium-ion batteries and a proprietary embedded power management system. That's according to Ryan Rubly, product manager for power management systems for the Carrier Transicold's Truck Trailer Americas unit.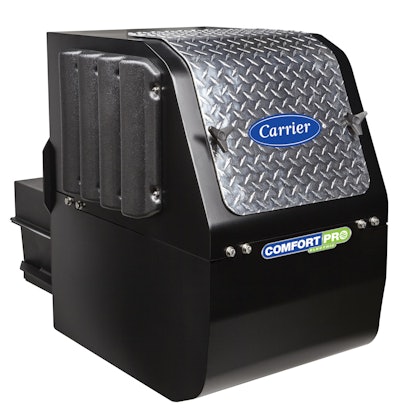 The new APU offers owners:
7,500 BTU/hours of cab cooling, delivering continuous air-conditioning that extends well beyond what is required for overnight rest breaks and up to 17 hours under certain real-world conditions.
Quiet, emissions-free performance

with relatively few moving parts, eliminating the maintenance required of diesel-powered APUs.
Advanced lithium-ion technology in the unit has been engineered specifically for long-haul commercial vehicle applications to provide a power-dense and durable solution, charging faster with less performance degradation over time compared to conventional absorbed-glass-mat (AGM) batteries often used for similar battery-driven solutions.
A five-year lithium-ion battery warranty provides more than twice the typical lifespan of AGM batteries, the company says, also outlasting the truck trade cycle for many companies.
Weight reductions of about 26%

using two DOT-certified lithium-ion batteries compared to Carrier Transicold's standard electric APU, which uses four AGM batteries.
Overall, it makes for what the company says is a lower cost of ownership than many alternatives.
Find more information via Carrier Transicold's North American dealer network.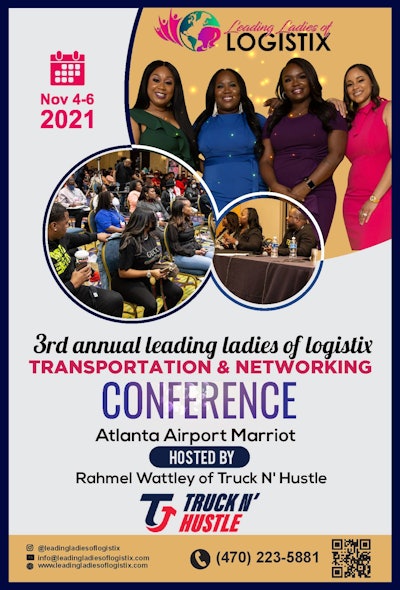 CFI recognizes 5-million-mile driver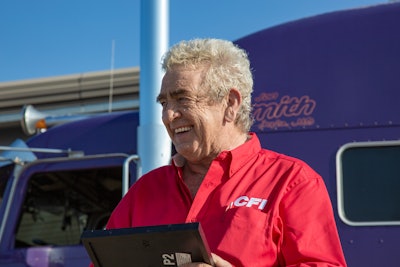 CFI driver Jon "Smitty" Smith has surpassed five million miles over the road, becoming the first CFI driver to surpass the milestone, the company announced this week.
He leads 560 other CFI drivers who are currently driving their one, two, three and four million miles.
Notably, Smith achieved the milestone while also maintaining an outstanding safety record over 37 years of driving. He has driven accident-free for some 3,216,515 miles.
"Safety is the cornerstone of CFI's operations and is our No. 1 core value," said Greg Orr, CFI's president. "The amount of focus and attention, day in and day out, that it takes to operate a tractor-trailer, though all kinds of road conditions, weather and congestion is perhaps the most difficult challenge a driver faces. Jon Smith's sustained excellence epitomizes what it truly means to be a professional in this industry."
Smith's accomplishment was recognized Friday, Sept. 17, during a special ceremony at CFI's headquarters in Joplin.