Owner-operator James Weverka's 2005 Kenworth W900L is notable not only for the double-hump fenders, cow catcher, ground accent lights, custom hood and numerous interior upgrades. 'Hercules,' as Weverka calls the rig, has garnered TikTok notoriety after the owner-operator took on the short-video-centric social network at the behest of his kids.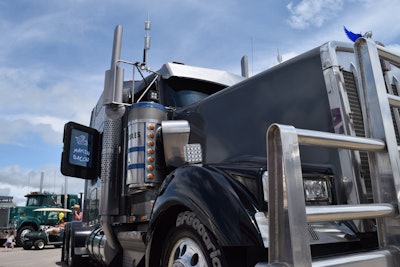 Posting under the "Cowboy and Hercules" moniker there and on Instagram, he's turned what started as little more than a fun diversion to altruistic effect with organized charity runs, as he explains in the video. Participants put up "bounty" money on particular participating truckers – if another participant "catches" them out on the road by simply spotting the operator or his/her truck, the bounty money is then paid to the designated recipient. Weverka and followers have assisted families in various types of need to date, as he explained.
And it's fun for all involved, of course.
In the video at the top of this post, find plenty views of the rig as it was in early July at the Walcott Truckers Jamboree in Walcott, Iowa, where Weverka bagged a 2nd in his bobtail class.
Weverka hauls livestock, mostly pigs, from a Nebraska home base, following a prior career as a deputy with the Platte County Sheriff's Department.
[Related: 'The boss lady's truck': Her big influence on Chris Young's 2020 Pete 389 livestock hauler]