Attendance topped 44,000 at the Walcott Truckers Jamboree last week, with drivers arriving in Iowa from 22 different states and three Canadian provinces to display their trucks. Truckers from Arizona, Texas, Vermont and Canada traveled the farthest for the event which has been taking place at Iowa 80 since 1979.
A chief attraction, the Super Trucks Beauty Contest, announced results on Saturday, with Marcel Pontbriand and his elaborate "Cowboy of the Road" 1989 Peterbilt 379 and 2015 Great Dane trailer bagging both "Trucker's Choice" and "Best Overall Theme" trophies.
Other category winners, and plenty views on many of the rigs, follow.
Working truck categories
Cabover
1st: 1980 Peterbilt 352, Austin Jaeger, Worthington, Iowa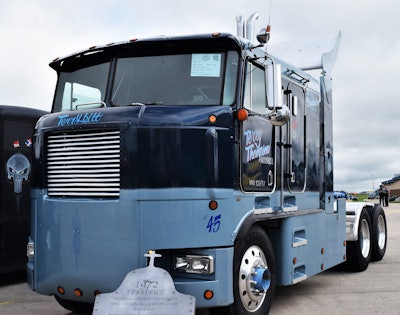 3rd: "Not Daddy's Money" 1993 Kenworth K100E of Matt Schleuger, Wesley, Iowa
Company truck -- bobtail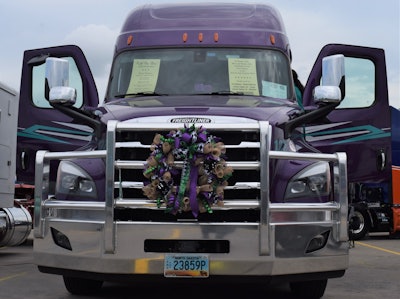 2nd: "Night Train" 2019 Peterbilt 389 of Travis Marker, Palestine, Texas
3rd: 2021 Peterbilt 389 of Daniel Huffman, Kalona, Iowa
Company truck -- combo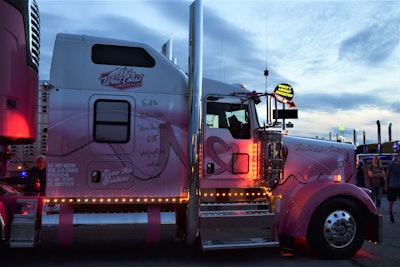 2nd: 2022 Peterbilt 389 and 2003 Manac of Rex Neely, Pahrump, Nevada
3rd: "Simply Red" 2015 Peterbilt 389 and 2015 Mac of Zach Pletcher, Elkhart, Indiana
Rat rod
Winner: Danny Autullo of Monee, Illinois, with a 1948 Diamond T
Bobtail, 2018-'21
2nd: 2022 Peterbilt 389 of Brandon Graddick, Iowa City, Iowa
3rd: 2019 Peterbilt 389 of Keaton Giza, Creston, Iowa
Bobtail, 2003-'10
1st: "Satisfaction" 2009 Kenworth W900L of Paul Saline, Rio, Illinois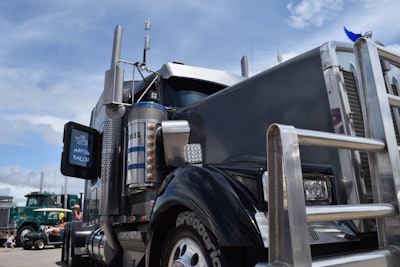 3rd: 2006 Peterbilt 379 of Karen Jack, Eustis, Nebraska
Bobtail, 1997-2002
1st: "Pure Attitude" 2002 Kenworth W900B of Shawn Swanson, Prophetstown, Illinois
2nd: 1999 Freightliner Classic of Tim Bauman, New Paris, Indiana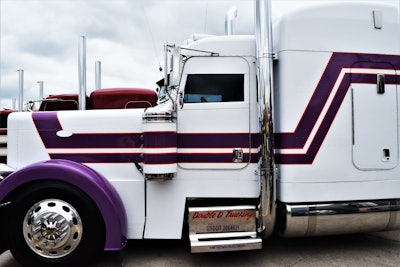 Bobtail, 1996 and older
1st: 1985 Kenworth K100 of J.R. Schleuger, Britt, Iowa
2nd: "Drawer Dropper" 1994 Peterbilt 379 of Marvin Hughes, New Boston, Illinois
3rd: 1982 Kenworth W900A of Lavern Cross, Middlebury, Indiana
Combo, 2016-'21
1st: "Optimus Prime" 2021 Peterbilt 389 and 2021 Utility of T.J. & Scott Hansen, New Denmark, New Brunswick, Canada
2nd: 2022 Peterbilt 389 and 2022 Wilson of Dylan McCrabb, Williamsburg, Iowa
3rd: 2019 Peterbilt 389 and 2021 Mac of Andy Schwarz, Davenport, Iowa
Combo, 2007-'15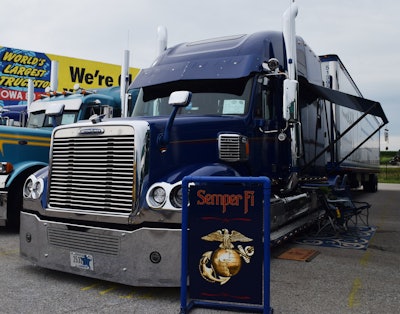 2nd: "Jordy" 2014 Kenworth T660 and 2009 Great Dane of Mary Peterson Norton, Knapp, Wisconsin
3rd: "Red Rocket" 2012 Peterbilt 386 and 2018 Great Dane of Timothy Olden, North Chesterfield, Virginia
Combo, 2006 & older
1st: "Cowboy of the Road" 1989 Peterbilt 379 and 2015 Great Dane of Marcel Pontbriand, Pahrump, Nevada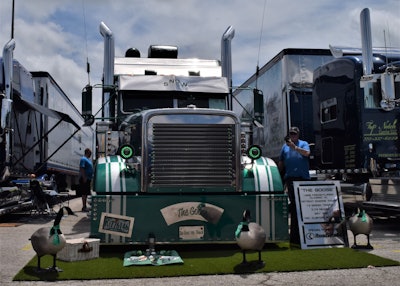 3rd: "Excessive Behavior II" 1999 Peterbilt 379 and 2019 Globe, Gary Jones Jr., Lawson, Missouri
Show class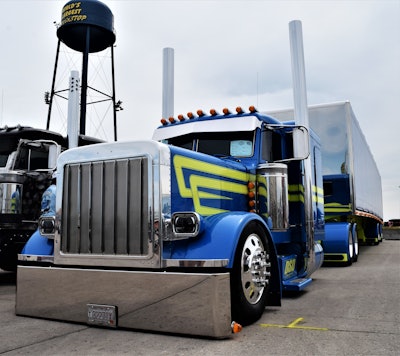 2nd: "One of a Kind" 1993 Peterbilt 379 of Ron Brubaker, Sigourney, Iowa
3rd: "Mostly for the Money" 2020 Peterbilt 389 of Brett Wright
Custom paint, bobtail
1st: 1979 Kenworth W900 of Ron Deardurff, Wyoming, Michigan
2nd: "Mostly for the Money" 2020 Peterbilt 389 of Brett Wright
3rd: 1985 Kenworth K100 of J.R. Schleuger, Britt, Iowa
Custom paint, combo
1st: 2013 Peterbilt 389 and 2013 Landoll of Dave Schroyer, Celina, Ohio
2nd: 2019 Peterbilt 389 and 2021 Mac of Andy Schwarz, Davenport, Iowa
3rd: "Excessive Behavior II" 1999 Peterbilt 379 and 2019 Globe, Gary Jones Jr., Lawson, Missouri
Custom graphics, bobtail
1st: "Satisfaction" 2009 Kenworth W900L of Paul Saline, Rio, Illinois
2nd: "Pure Attitude" 2002 Kenworth W900B of Shawn Swanson, Prophetstown, Illinois
3rd: "Roll of the Dice" 2020 Freightiner Cascadia of Dawson Taylor, Cameron, North Carolina
Custom graphics, combo
1st: 2022 Peterbilt 389 and 2003 Manac of Rex Neely, Pahrump, Nevada
2nd: "The Goose" 1996 Freightliner Classic XL and 2019 Utility of Daniel & Phyllis Snow, Harrison, Arkansas
3rd: "Nancy Mae" 2018 Peterbilt 567 and 2021 Walker of Michael VanNess, Georgetown, Illinois
Polish and detail, bobtail
1st: "Pure Attitude" 2002 Kenworth W900B of Shawn Swanson, Prophetstown, Illinois
2nd: 2019 Peterbilt 389 of Keaton Giza, Creston, Iowa
3rd: "One of a Kind" 1993 Peterbilt 379 of Ron Brubaker, Sigourney, Iowa
Polish and detail, combo
1st: "High Maintenance" 2003 Peterbilt 379 and 2021 Mac, Don Wood, Denmark, Wisconsin
2nd: "Dirty Business" 2018 Peterbilt 389 & 2017 Reitnouer of Jay Hawthorne, Grand Mound, Iowa
3rd: 2019 Peterbilt 389 and 2021 Mac of Andy Schwarz, Davenport, Iowa
Interior, OEM sleeper, bobtail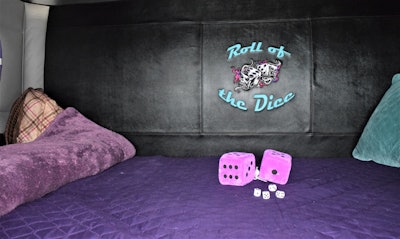 2nd: "Pure Attitude" 2002 Kenworth W900B of Shawn Swanson, Prophetstown, Illinois
3rd: "Satisfaction" 2009 Kenworth W900L of Paul Saline, Rio, Illinois
Interior, OEM sleeper, combo
1st: "Zippy" 1996 Peterbilt 379 and 2020 Sun Country, Terry & Kasey Aslinger, Marquand, Missouri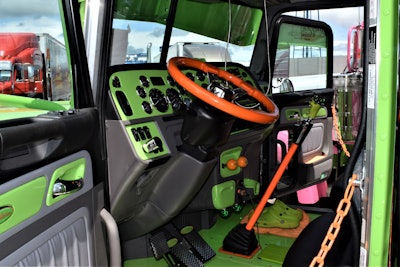 3rd: 2022 Peterbilt 389 and 2022 Wilson of Dylan McCrabb, Williamsburg, Iowa
Interior, OEM conversion sleeper
1st: 2019 Peterbilt 389 and 2021 Mac of Andy Schwarz, Davenport, Iowa
2nd: "Dirty Business" 2018 Peterbilt 389 & 2017 Reitnouer of Jay Hawthorne, Grand Mound, Iowa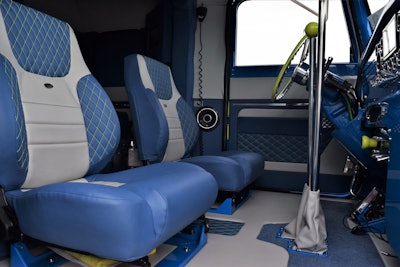 Interior - Custom Sleeper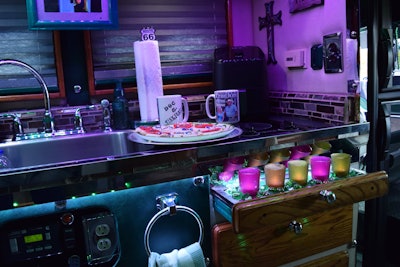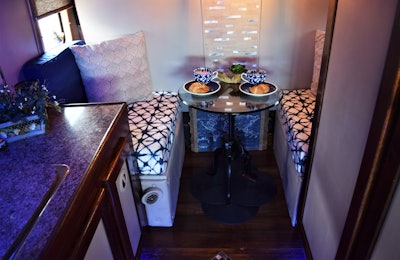 3rd: 1982 Kenworth W900A of Lavern Cross, Middlebury, Indiana
Lights at Night
Bobtail, road legal
1st: 2nd: 2019 Peterbilt 389 of Keaton Giza, Creston, Iowa
2nd: 2022 Peterbilt 389 of Shaun Miller, Palm Bay, Florida
3rd: 2021 Peterbilt 389 of Daniel Huffman, Kalona, Iowa
Bobtail, show only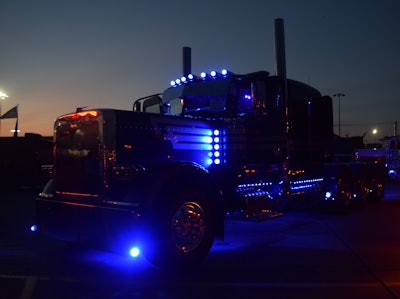 Combo, road legal
1st: "Rooster Cruiser" 1984 Peterbilt 359 and 2018 Great Dane, Darren Nolt, Ephrata, Pennsylvania
2nd: 1987 Peterbilt 359 and 2020 Great Dane, Kendall Nolt, Ephrata, Pennsylvania
3rd: 2017 Kenworth W900 and 2016 Tremcar, Dennis Durand, Winnipeg, Manitoba, Canada
Combo, show only
1st: "High Maintenance" 2003 Peterbilt 379 and 2021 Mac, Don Wood, Denmark, Wisconsin
2nd: "Cowboy of the Road" 1989 Peterbilt 379 and 2015 Great Dane of Marcel Pontbriand, Pahrump, Nevada
3rd: "The Goose" 1996 Freightliner Classic XL and 2019 Utility of Daniel & Phyllis Snow, Harrison, Arkansas
Specialty