In today's edition of the Overdrive Radio podcast, we'll get varying answers to the question in the title from the three owners -- and one owner team -- pictured below. The lightning round comes by way of the many truckers who showed their equipment in the Walcott Truckers Jamboree's Super Truck Beauty Contest two weeks ago: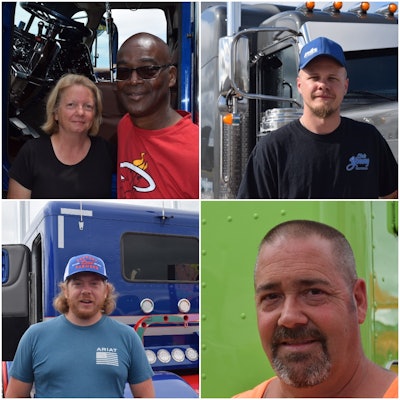 Clockwise from top right:
**Owner-operator Christopher Young, a one-truck livestock hauler several years into trucking with his own authority out of Shellsburg, Iowa.
**Hallahan Transport small fleet owner Rob Hallahan, who's concerned about the prospects of regulatory change (the insurance hike being currently considered). He's also dealing with the difficulties that come with growth.
**Minnesota-based owner-operator Aaron Walters, second-generation in the family heavy-hauling business. For him, growth limitations are top of mind – if the business could just find more independents to contract with to haul for their wind energy and other customers. ...
**Finally the Ashville, Alabama-based team of Michael and Jackie Wallace, hauling van freight leased to Landstar. They're working through some of the same challenges as the much younger livestock hauler Young, in a certain way.
What emerges are four distinct yet overlapping pictures of trucking from that Midwest truck-show mecca. As at so many truck shows ongoing all around the country this season, it proved an easy place to find camaraderie among owner-operators, sometimes hard to come by out on the road. Definitely no shortage of that in Iowa. ...
Hang on tight: