Landstar-leased owner-operators Michael and Jackie Wallace, today out of Ashville, Alabama, purchased this '07 Freightliner Coronado new, taking delivery in Miami, where they lived at the time. The rig came with a fairly standard 70-inch sleeper, 600-hp Detroit engine, 3:58 rears and a 288-inch wheelbase. There was one little hiccup, though.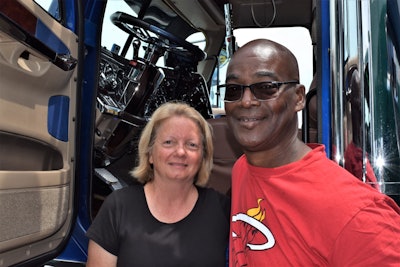 As with the engine and make -- the pair's two previous used-purchased trucks had both been Freightliners -- Michael had spec'd a Super 10 transmission. The rig they now proudly owned had a 13 speed in it. The ensuing crash course Wallace took on effectively working the transmission for maximum efficiency is a story Michael tells in the video talk with pair here, conducted at Walcott Truckers Jamboree in July this year.
Michael, a Marine veteran, expresses military pride through numerous emblems and custom touches on the interior, as you'll see -- and through the unit's name, of course, Semper Fi.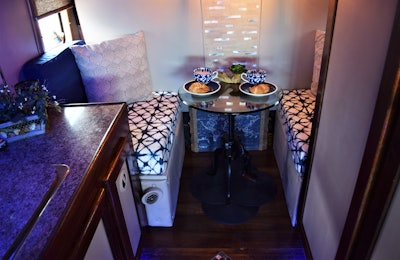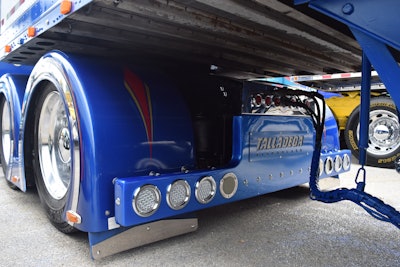 The most important of the custom adds have less to do with any look but with maximizing efficiency for profit and long-term dependability, Michael noted. The pair's owned Great Dane dry van features the Smart Truck under-tray system, for instance, and custom spoilers on the tractor helping air flow more smoothly around the gap between the tractor and trailer.
After going back OTR with this unit following 10 years in which Michael did more local/regional intermodal work around the Port of Miami, the pair seem to have truly found their home in this rig, with its creature comforts. "It's the best job I've ever had," said Jackie.
Find plenty views of the 2007 Coronado, both inside and out, in the video up top. Hear more from the Wallaces in this recent-past edition of the Overdrive Radio podcast about current business challenges of significance: