Trucking news and briefs for Monday, June 28, 2021:
OOIDA-led coalition decries insurance hike inclusion in House highway bill
As the U.S. House Committee on Rules meets Monday afternoon and Tuesday to discuss which amendments will be included in the bill sent to the full House floor later this week, the Owner-Operator Independent Drivers Association and a coalition of more than 60 trucking-related groups penned a letter to the House Rules Committee advocating for an amendment that would remove a liability insurance hike to $2 million for motor carriers.
The letter calls the 167% increase to carriers' minimum liability insurance requirement "harmful and unnecessary."
"If the House allows this policy to remain in the highway bill, it would jeopardize countless small and family-owned businesses, as well as blue collar jobs," the coalition wrote. "We therefore ask that you make Rep. [Mike] Bost's amendment in order and allow all Representatives to consider this issue on its own merits."
The coalition adds that while supporters of the insurance hike say the change is needed to account for inflation since the $750,000 minimum was implemented, the existing level covers more than 99% of cases, according to research from the John A. Volpe National Transportation Systems Center.
"It may be true that inflation has increased some costs, but this congressionally-required research demonstrates that inflation has not outpaced the current minimum requirements," the coalition said. "What studies haven't shown is any improvement to safety associated with increasing insurance requirements. There is no reputable research indicating an increase of any amount would help reduce crash rates. Proposals to raise minimum liability coverage are nothing more than an opportunity for their most ardent supporters -- trial lawyers -- to receive higher payouts from settlements at the expense of American businesses."
The letter also notes that the Senate Commerce, Science and Transportation Committee passed its version of the highway bill with bipartisan support, and it did not include any changes to insurance levels.
[Related: Parking, younger drivers, insurance: Cleaning the window on Congressional trucking machinations]
Nomination period opens for military vet rookie trucker award
Entries are open in an annual contest to identify and reward military veterans who are new to trucking.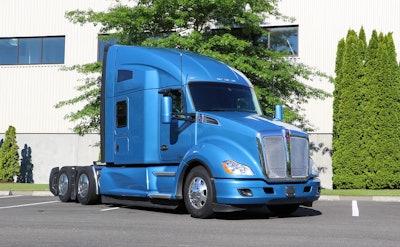 Since 2016, the U.S. Chamber of Commerce Foundation's Hiring Our Heroes, Kenworth, and Fastport have come together to provide one deserving veteran with a fully loaded T680 truck through the Transition Trucking: Driving for Excellence award. The truck will feature a 76-inch sleeper, the Paccar MX-13 engine, Paccar TX-12 automated transmission, and Paccar DX-40 tandem rear axles.
Employers and credentialing institutions (CDL schools) can nominate up to five rookie drivers for the contest. The nomination deadline is 5 p.m. EDT on July 31.
To be eligible for the award, a nominee must:
Be a legal resident of the continental United States
Be a military veteran/prior service member or a current or former member of the National Guard or Reserves
Have graduated from a Professional Truck Driver Institute-certified or National Association of Publicly Funded Truck Driving Schools or Commercial Vehicle Training Association member driving training school
Be a current CDL holder
Have been first employed as a CDL driver between January 1, 2020, and July 31, 2021
Agree to all the award rules
The top 10 finalists will be announced in September. After a selection committee selects the top three Transition Trucking finalists, the public has the opportunity to vote for their favorite driver between Oct. 28 and Nov. 11. In December 2021, the winner will drive away in the Kenworth truck and start on the road toward an entrepreneurial career.
[Related: Trucking with the next generation]
St. Christopher Fund hosting art auction next month
Talented truckers or their families and friends can help support an organization aimed at helping drivers in need with an art auction next month.
The St. Christopher Truckers Relief Fund will hold the auction to raise money to help truckers who have fallen on hard times through illness or an accident. The organization is soliciting donations of handmade items – paintings, drawings, sculptures, woodwork, fabrics, jewelry, afghans, quilts – that will be auctioned off online.
Artists and craftspersons can register their works online. Following the auction, the artist will then ship the work to the winning bidder.
Since its start, the SCF has spent $3.5 million helping 3,204 drivers. The money goes directly to the bill holders – not to the drivers.
The group just raised $75,000 with its streamed Highway to Hope concert.
[Related: Cooking in-cab with Tom Kyrk, St. Christopher update...]