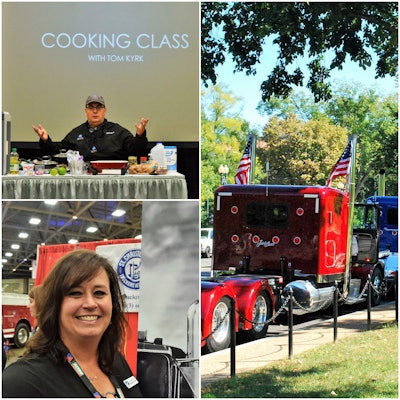 What's on tap for this week's Overdrive Radio edition:
1) Owner-op Allen Kelly of Pennsylvania runs through some of the particulars for the "That's a Big 10-4 on D.C." event coming up and beginning October 3 in Fredericksburg, Va., on to Washington, D.C., on 10/4 though the next couple days. Kelly and company — and there are quite a good number of different owner-ops who've participated in the various parts of the organization of the event — are inviting owner-ops, company drivers, and anybody involved in trucking, really, as you'll hear, to participate.
2) Stevens Transport driver and RoadTestedLiving.com proprietor Tom Kyrk I spoke to at the Great American Trucking Show about his in-cab cooking demos and a recipe that's part of a sweepstakes you can get involved in — vote for your favorite of three via Southern Recipe's trucker appreciation page here for a chance to win two grand through this coming Monday, Sept. 17.
And if you ever cook yourself out on the road — or at home for that matter — Kyrk's ideas may get your culinary mind rolling.
3) Shannon Currier of the St. Christopher Truckers Fund joined Kyrk and I at GATS and ran me through the longtime charity's fund-raising efforts, including a heartfelt thank you to its no. 1 well of support — that's you. Take a listen:
Podcast: Play in new window | Download