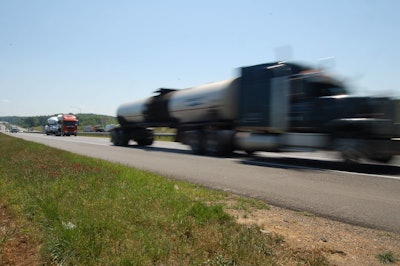 Trucking news and briefs for Wednesday, May 26, 2021:
Speed limiter legislation reintroduced
A bill most recently introduced in 2019 that would mandate speed limiters on all trucks manufactured after 1992 has been reintroduced in the U.S. House of Representatives.
Rep. Lucy McBath (D-Georgia) and Rep. John Katko (R-New York) introduced the Cullum Owings Large Truck Safe Operating Speed Act on May 25.
The bill, if made law, would require all new commercial motor vehicles to be equipped with speed limiters, require existing speed-limiting technologies already installed in commercial motor vehicles manufactured after 1992 to be used while in operation, and require that the maximum safe operating speed of commercial motor vehicles not exceed 65 miles per hour, or 70 miles per hour with certain safety technologies, such as an adaptive cruise control system and an automatic emergency braking system.
[Related: Speed limiter debate reignited with new administration]
The bill is named for 22-year-old Atlanta resident Cullum Owings, who was killed in a car-truck collision in 2002 while returning to college. The legislation was long championed by former Georgia Sen. Johnny Isakson and is endorsed by the Truckload Carriers Association, the Trucking Alliance, AAA, the Institute for Safer Trucking, Road Safe America (founded by Cullum Owings' father) and the Safe Operating Speed Alliance.
"The safety and security of our families, our friends, and our loved ones is always of the utmost priority," McBath said. "The Owings family has done so much to protect other children like Cullum, and I want to thank them for all they have done. No family in America should ever have to experience the same pain of losing a loved one so needlessly. This is an important, bipartisan step to make our roadways safer, protect drivers, and stop these heartbreaking crashes from happening."
[Related: Senate bill to mandate a 65 mph speed limit a 'terrible idea']
FMCSA extends COVID-related waivers through August
The Federal Motor Carrier Safety Administration announced Wednesday it will extend its COVID-19 waivers – including the hours of service waiver and the CDL, CLP and medical card validity extensions – through Aug. 31. The current waivers, issued in February, are set to expire May 31.
This hours of service extension includes the same regulatory relief for motor carriers and drivers providing direct assistance in support of relief efforts related to COVID-19, as included in the Feb. 17 declaration. The waiver only applies to drivers hauling the following:
Livestock and livestock feed
Medical supplies and equipment related to the testing, diagnosis, and treatment of COVID-19
Vaccines, constituent products, and medical supplies and equipment, including ancillary supplies/kits for the administration of vaccines, related to the prevention of COVID-19
Supplies and equipment necessary for community safety, sanitation, and prevention of community transmission of COVID-19 such as masks, gloves, hand sanitizer, soap, and disinfectants
Food, paper products, and other groceries for emergency restocking of distribution centers or stores
FMCSA says it plans to review the status of this and other emergency regulatory relief — including CDL, CLP and medical card validity extensions — on July 1, and may modify or end the waivers.
"It is FMCSA's intention to wind down the exemptions granted under this Emergency Declaration and related COVID-19 regulatory relief measures to the extent possible," the agency says.
[Related: COVID hours exemption not valid 'just because you're hauling food']
St. Christopher Fund raises $75k through virtual concert
The St. Christopher Truckers Relief Fund's inaugural "Highway to Hope" virtual benefit concert raised more than $75,000 to help support truck drivers out of work because of injury or illness.
The concert was headlined by Wynonna Judd and her husband, Cactus Moser, and the Big Noise Band, along with other country music artists who support trucking, including John Schneider, Billy Dean, Lindsay Lawler and Heath Sanders.
"SCF's mission is all about hope. Hope for drivers when they need financial assistance because of an injury or illness, hope for a healthy life on the road with our health and wellness programs, and hope and encouragement during those long days, weeks and months on the road away from their families," said Shannon Currier, director of philanthropy and development with SCF. "Thank you to everyone that made this first ever Highway to Hope event possible and thank everyone that joined us for the livestream. Your support will make a difference in the lives of the men and women we love, appreciate and depend on. We hope you will join us for the next event."
Vaccine clinics planned at Iowa 80, Oak Grove 70 Petro
Iowa 80 Truckstop has again partnered with Hy-Vee Pharmacy to offer an additional COVID-19 Vaccine Clinic on June 3 from 3-7 p.m. This clinic will be a walk-in only, clinic and no appointments are needed.
The clinic will offer both the Pfizer and the Johnson & Johnson single-dose vaccines. It will be conducted on the third floor of the main truck stop building. Anyone age 12+ can receive the Pfizer vaccine and anyone 18+ can receive the J&J vaccine. Ages 12-17 do need to have a legal guardian present.
Additionally, Oak Grove 70 Petro in Oak Grove, Missouri, part of the Iowa 80 Group, has partnered with the National Guard to offer two more COVID-19 Vaccine Clinics, which will be held on Thursday, May 27, and again on Thursday, June 17, from 3-7 p.m. both days.
The clinics are open to anyone ages 12 and older and will be conducted on-site at the truck stop in the main building. The Pfizer vaccine will be offered for those age 12+ and the Johnson & Johnson single shot vaccine will be offered to anyone age 18+.
Both clinics are walk-in only, and no appointments are required.