Trucking news and briefs for Thursday, Dec. 16, 2021:
Human trafficking awareness Kenworth sold for $260,000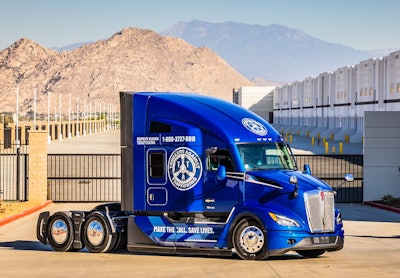 Vancouver, Washington-based Freestyle Transport bought the "Everyday Heroes" Kenworth T680 for $260,000. The rig was auctioned recently by Ritchie Bros. in Perris, California.
The proceeds from the sale go to support Truckers Against Trafficking, a non-profit dedicated to stopping human trafficking by educating, mobilizing and empowering truck drivers and rest stop employees.
In addition to the proceeds raised by the sale of the Kenworth T680 Next Gen, TAT received $68,000 in additional donations from industry suppliers and trucking companies.
"Truckers Against Trafficking is an incredible organization that is utilizing our industry to help victims of human trafficking," said Freesyle Transport CEO Serg Kodryanu. "After I learned the numbers of how many victims have been affected by human traffickers, I immediately felt it in my heart to make it our company's mission to support such a great and noble cause as TAT and its mission to stop this terrible crime. With drivers and other members of our industry spread throughout North America, we have a great opportunity to identify and report suspicious activity and help potential human trafficking victims. Our new Everyday Heroes truck will help us spread awareness of human trafficking to other drivers and communities across the country."
Freestyle Transport specializes in delivering refrigerated and dry van freight throughout the lower 48 states. According to Edward Little, who is TAT trained and Freestyle Transport's president, the company is in the process of getting all its executives, staff, drivers and volunteers TAT trained and looks forward to increasing awareness about the crime of human trafficking through its new Everyday Heroes Kenworth T680 Next Gen.
According to Kendis Paris, TAT executive director, the $328,000 TAT received between the Everyday Heroes truck sale and additional donations surpassed the 2019 Everyday Heroes donation of $162,000. It's the largest one-time gift in the organization's history. The funds will help TAT expand its work within the trucking industry and further partnerships with law enforcement.
The "Everyday Heroes" truck is fully loaded with a 76-inch sleeper and features the Paccar Powertrain with a Paccar MX-13 510-hp engine, Paccar TX-12 automated transmission, and Paccar DX-40 tandem rear axles. Freesyle Transport's new T680 will join its fleet of 47 trucks and will make runs to and from Washington state and Florida to generate more exposure to the specially decaled TAT truck throughout the country.
Trail King moving to zinc-rich primer as standard
Open-deck and materials-hauling trailer manufacturer Trail King is adding zinc-rich primer as the standard on each and every piece of equipment. This change will provide maximum corrosion protection to deliver better corrosion resistance for steel surfaces, the company said. Trail King put in hours of research and testing to determine the best finishes on the way toward making the move. The coating is formulated to be a high-performance primer with excellent adhesion and solvent and chemical resistance.
Performance characteristics like impact resistance and flexibility, Trail King added, are enhanced with these finishes. Corrosion resistance is heightened with a reduction in rust creep and better durability with improved mechanical strength and crack resistance.
The productivity and useful life of trailers should be longer, helping long-term resale value.
"Trail King spares no effort or expense to ensure that each trailer has a paint finish that is durable, beautiful and offers incredible product protection," said VP of Sales & Marketing Rick Farris. "Our main goal is to help customers protect their investment with our unwavering commitment to excellence."
Rush Enterprises purchases 16 International dealerships
Rush Enterprises, which operates the largest network of commercial vehicle dealerships in North America, has acquired certain assets of Summit Truck Group, one of the largest International brand commercial vehicle dealership groups in the United States. The purchase price for the assets of Summit Truck Group was approximately $205 million, excluding the real property associated with the transaction.
The acquisition, which is the largest acquisition in the company's history, expands Rush's network of Rush Truck Centers to 125 franchised dealership locations in 22 states. The 16 newly acquired International dealerships include five locations in Arkansas, three locations in Kansas, seven locations in Missouri and one location in Tennessee.
The acquisition also includes Idealease commercial vehicle leasing operations at eight locations – five within the acquired International dealership locations and three in stand-alone Idealease facilities, a used truck sales facility in Kansas City and a collision center in Memphis. IC Bus, Isuzu and Dennis Eagle franchises are included at certain dealership locations.
Rush also acquired Summit Truck Group's dealership facility in Wichita Falls, Texas, which the company will operate as a full-service Peterbilt dealership.
"This acquisition will strengthen our dealership network in several of the most important trucking markets in the United States," said W. M. "Rusty" Rush, Chairman, CEO and President of Rush Enterprises. "I am especially thankful to the employees of Summit Truck Group and Rush Enterprises who have worked tirelessly over the last few months to complete this transaction. We could not have completed this acquisition without a lot of work from the great teams at both companies. I have tremendous respect for the excellent customer service reputation that the employees of Summit Truck Group have built over the years, and we are excited to welcome many of them into the Rush Enterprises family."