Trucking news and briefs for Friday, July 15, 2022:
Used truck prices softening as sales volumes rise
Preliminary used Class 8 retail sales volumes (same dealer sales) rose 6% month-over-month while average retail prices fell by 6% in June, according to the latest preliminary release of the State of the Industry: U.S. Classes 3-8 Used Trucks, published by ACT Research.
Despite the month-over-month increase, volumes were still 39% lower compared to June 2021, and the average retail price was 50% higher than the same month a year ago.
"Thankfully, fuel prices have begun showing signs of abating," said Steve Tam, Vice President at ACT Research. "However, inflation remains entrenched, with many economists expecting it to remain elevated for quite some time."
Tam added that contract freight rates are holding "reasonably steady" despite a slowing spot freight market. "However, contract rates are starting to show signs of near-term softening," he noted. "To be clear, they remain significantly higher than they were at this time last year."
Looking ahead, Tam said "the slowing market is inevitable," adding that used Class 8 truck values are running alongside the ups and downs in the market on a generally parallel trajectory.
'Transition Trucking' award nomination period ends July 31
As the July 31 nomination deadline rapidly approaches, Kenworth, the U.S. Chamber of Commerce Foundation's Hiring our Heroes Program and Fastport continue the search for America's top rookie military veteran driving for a commercial fleet after retirement from the U.S. Armed Forces.
Under the "Transition Trucking: Driving for Excellence" recognition program, Kenworth will provide the top award for the seventh consecutive year.
For the first time, that award is a Kenworth T680 Next Generation. The T680 Next Gen is equipped with a 76-inch sleeper and the Paccar Powertrain featuring the Paccar MX-13 engine, Paccar TX-12 automated transmission, and Paccar DX-40 tandem rear axles.
The top driver will be determined by an expert panel of judges. To qualify, drivers must meet three eligibility requirements:
Must have been active military or member of the National Guard or Reserve
Graduated from PTDI-certified, NAPFTDS or CVTA member driver training school, with a valid CDL
First hired in a trucking position between January 1, 2021 and July 31, 2022
Nominations may be made by any for-hire carrier or private fleet employers, training organizations, the general public and other interested parties only by completing the nomination form on the "Transition Trucking: Driving for Excellence" website.
Driver named Highway Angel for helping at scene of fatal crash
The Truckload Carriers Association has named Shawn Stoltenberg, from Belt, Montana, a Highway Angel for rescuing a driver involved in a fatal crash on a snowy morning. Stoltenberg drives for JNL Brown Trucking Company out of Great Falls, Montana.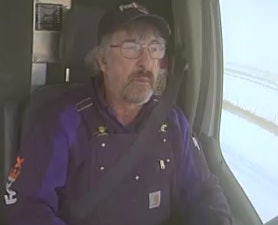 On April 12, at 9:13 a.m., Stoltenberg was driving through Stanford, Montana, on slick, snow-covered roads, when he came upon an accident that happened just seconds ahead of him.
"Apparently there was so much snow being kicked up by the semi drivers that you're blinded -- you can't see," he said. "And I think that's what happened to these people."
What seemed like seconds later, a pickup truck pulling a utility trailer struck an oncoming tractor-trailer, which then jackknifed, resulting in a head-on collision.
Stoltenberg safely stopped his truck and ran to the mangled pickup. He was unable to open the door to reach the driver or the passenger, so he retrieved a crowbar from another driver; with the assistance of another motorist, Stoltenberg was able to pry the driver's side door open and remove the driver.
"It took about 15 minutes of prying before that door came open," he said. The driver "was glad to get out of there."
Stoltenberg added that the driver had a broken leg and a punctured lung, so he worked quickly to grab some blankets to keep the driver warm.
He then returned to the pickup but discovered that the female passenger, the driver's wife, had succumbed to her injuries. He then checked on the tractor-trailer driver to ensure he wasn't in need of assistance.
Both men remained on-scene until emergency personnel arrived.
"He was asking for help," said Stoltenberg. "You just had to help him. If you kept going you would have been cursed for life, because it was bad."
TCA has presented him with a certificate, patches, lapel pin, and truck decals. JNL Brown Trucking has also received a letter acknowledging him as a Highway Angel.
Trailer manufacturer Fontaine rebrands
The trailer business previously known as Fontaine Heavy-Haul is now Fontaine Specialized.
The company said the name change is to reflect the evolving needs of its customer base.
"Over the last several years we have expanded our Xcalibur extendable flatbed and drop-deck models, introduced the Traverse hydraulic tail models, created a new line of Workhorse lowbed models, and added several new Magnitude heavy-haul models," said Todd Anderson, President of Fontaine Specialized. "We believe our name should reflect our entire product lineup, and our dealer network is very supportive of re-branding the business as Fontaine Specialized."
The company is returning to a name that many of its customers remember, as it was previously branded as Fontaine Specialized from 1993 to 2009.
"The name change in a way is a 'Back to the Future' move for our company," said Heather Gilmer, VP for sales. "In fact, many of our seasoned customers continued to refer to our trailers as 'Fontaine Specialized' even under the Heavy-Haul brand. Our tradition of industry leading innovation and unmatched customer support will most certainly continue under the Fontaine Specialized name."
Love's opens new Illinois location
A new Love's Travel Stops location opened this week in Monroe Center, Illinois, adding 70 truck parking spaces to the company's growing network.
In addition to parking, the new store also offers Godfather's Pizza and Subway restaurants, seven diesel bays, six showers and more.
The Monroe Center store, located at exit 111 off I-39, is the 32nd Love's to open in Illinois.