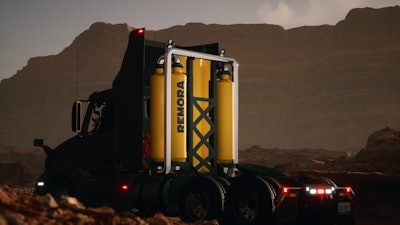 Courtesy of Remora Carbon
Remora Carbon co-CEO and cofounder Paul Gross notes that, unlike a lot of technologies coming to market with greenhouse-gas reduction in mind, affordability is certainly part of what drives the company's moves into actual business -- and ultimate profit for trucking and its smallest players, specifically.
While its mobile-CO2-capture devices and storage tanks -- connecting with a Class 8's exhaust system and mounting to frame rails behind the cab of a heavy-duty truck -- are set to begin piloting for proof of concept/implementation with several larger companies in a matter of months, "the whole reason we started the company is to help owner-operators decarbonize and make some extra money," Gross said. "Our whole goal is to help owner-operators tap into that value."
Depending on an owner's application, region and range, the system could in future make sense once infrastructure for offloading the CO2 is widespread and the market for secondary uses is robust. Costs for a single system, Gross estimated, would pay back in about four years, give or take, depending on just how much the truck is operated.
The payback estimate comes from the value the company sees particularly in the concrete industry's use of the captured CO2. Concrete producers use it to "strengthen the concrete and reduce the amount of Portland cement they use," injecting CO2 into "the curing chamber, where it turns into calcium carbonate," strengthening the product. It's both more sustainable, "and cheaper," Gross said, than CO2 sources most are using today.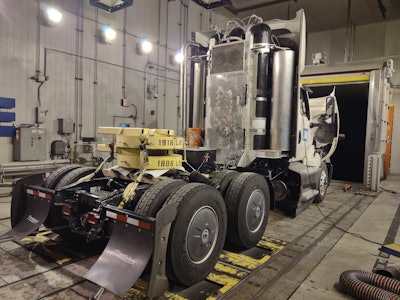 Among fleets set to install the system, predominantly flatbed-hauling company JLE Industries, with around two-thirds of its 400-unit fleet comprised of owner-operated or lease-purchase trucks, expects as many as 20 units to be outfitted with the system by the time of full commercial rollout, said CFO Craig McLane. "We partnered with [Remora] going back to early 2022," thinking of it possibly as an Environmental, Social and Governance (ESG) initiative, increasingly a part of what large customers want to see in any fleet they do business with. "In discussion with enterprise publicly held shippers, as part of their public ESG strategy from a carrier standpoint they're going to come to us" and ask about emissions-reduction efforts and goals. "We'll be able to show better greenhouse-gas metrics."
As noted, depending on "how Remora is able to scale" its own operation, McLane added, "we've got approximately 20 trucks targeted for the initial rollout."
Remora's Paul Gross estimated that, realistically, "we'll have about 10 units on the road by the end of this year," ramping up considerably into 2023. Other companies set for some of the initial implementation projects include Cargill, Ryder and Werner, Gross noted, and other companies have expressed plenty of interest as well.
Gross believes his company could get to "full-scale commercialization" likely later in 2023 or 2024, when the units might be available to any owner interested in investing in forward-looking technology, possibly most attractive to owners who cube out, as they say, before they max out on weight.
Though the company is in the process of qualifying for a 2,000-pound weight variance for tractor-trailers outfitted with the system, Gross said, the full system clocks in at around 5,000 lbs. empty, and 6,200 lbs. "fully loaded" with captured CO2. "Over time," he said, company efforts are likely to reduce that weight substantially.
Some fleets, he added, are seeing this as a lower-weight ESG-fulfilling alternative to the big push among publicly traded companies toward electrification, given the massive weight of battery systems.
As for JLE, the company's also been on the hunt for fuel savings for its company and owner-operated fleets in other ways, too, not least through "smarter loads with better planning, fewer deadhead miles" and more, McLane said. It's getting there in part by employing its DriverOS partially automated, interactive dispatch and planning system, which owners leased there interact with on the road through a mobile app.
Tim Tran, JLE vice president of systems and technology, described DriverOS as overall much more than just an app, though, integrating the company TMS system, electronic logging device and more in a single platform that also puts the power of load selection more firmly in its operators' hands than it's ever been. Combined with efforts that individualize the dispatch experience for every one of the company's drivers, JLE's DriverOS app, slightly more than a year in play, is now in use by 85% of truckers leased or employed there.
The platform, with minimal support of back-office logistics personnel, responds well to operators' needs, Tran said. If an owner-op inputs, for instance, a desire to be in Texas on a particular future Thursday, "the system tries to route them on that and get them there in that time frame," with the best load or combination of loads possible. (All owner-operators at JLE are compensated on a percentage of the load basis.)
That's not the only functionality within the driver app portion of the system. There's in-company communication (no more emailed newsletters to check), a window into income performance along certain lanes/time periods, available training, an ambassador program for what you might call operator-to-operator "word of mouth" recruiting with referral bonuses, and more.
Tran, McLane and company have been recognized more than once for work related to the DriverOS by Overdrive sister publication CCJ. Earlier this year, in fact, the company was named CCJ's Innovator of the Year. You can read more about that recognition via this link.
[Related: Surprising ways owner-ops and small fleets might make EVs work: A realistic outlook]