Trucking news and briefs for Tuesday, June 7, 2022:
Brake Safety Week set for August
The Commercial Vehicle Safety Alliance announced Tuesday that its annual Brake Safety Week inspection, enforcement and education initiative will be held Aug. 21-27.
During Brake Safety Week, inspectors will conduct their usual North American Standard Level I and V Inspections and capture and report brake-related data to CVSA. The results will be released in the fall.
In addition to reporting total inspections and brake-related out-of-service violations, inspectors will also capture and provide data on brake hose/tubing chafing violations -- the focus area for this year's Brake Safety Week.
"Poorly maintained brake systems can reduce the braking capacity and stopping distance of large trucks and motorcoaches, which poses a serious risk to driver and public safety," said CVSA President Capt. John Broers with the South Dakota Highway Patrol. "In those split-second emergency situations, the proper functionality of the brake systems on large commercial motor vehicles is crucial."
[Related: Where brakes, vehicle enforcement is most intense]
Brake-related violations make up the largest percentage of all out-of-service vehicle violations cited during roadside inspections, and according to last year's three-day International Roadcheck data, brake systems and brake adjustment violations accounted for 38.9% of all vehicle out-of-service violations, the most of any category of vehicle violations. To address this, CVSA's Brake Safety Week seeks to:
Identify and remove commercial motor vehicles with critical vehicle inspection violation items identified in the North American Standard Out-of-Service Criteria from roadways.
Conduct inspections and identify and acknowledge commercial motor vehicles that do not have critical vehicle inspection violations by affixing those vehicles with a CVSA decal.
Encourage proactive vehicle maintenance in advance of the week.
Highlight the hard work and commitment to safety by inspectors, drivers and motor carriers.
Remind drivers and motor carriers about the importance of proper brake maintenance and vehicle pre-trip and post-trip inspections.
Provide an opportunity for outreach and educational brake-safety efforts by inspectors.
During the brake portion of a vehicle inspection, inspectors will look for missing, non-functioning, loose, contaminated or cracked parts on the brake system, and non-manufactured holes (such as rust holes and holes created by rubbing or friction) and broken springs in the spring brake housing section of the parking brake. They will also listen for audible air leaks around brake components and lines, and ensure the air system maintains air pressure between 90-100 psi (620-690 kPa).
[Related: More than one assist for avoiding brake-adjustment violations]
Inspectors will also check for S-cam flip-over and measure pushrod travel. They will check that slack adjusters are the same length (from center of S-cam to center of clevis pin) and the air chambers on each axle are the same size. They will also inspect required brake-system warning devices, such as ABS malfunction lamps and low air-pressure warning devices. In addition, inspectors will ensure the breakaway system is operable on the trailer, and inspect the tractor protection system, including the bleed-back system on the trailer.
[Related: CCJ's updated Air Brake Book now available for download]
Diesel prices erase recent declines, soar to new record high
Following a three-week stretch in which diesel prices across the U.S. dropped an average of 8.4 cents, prices reversed that trend during the week ending June 6 and jumped 16.4 cents to a new record high, according to the Department of Energy's Energy Information Administration.
The U.S.' average price for a gallon of on-highway diesel is now $5.70 -- 8 cents higher than the previous record high of $5.62 during the week ending May 9.
During the most recent week, prices increased in all regions except New England and the Central Atlantic region, which saw decreases of 3.1 cents and 2.9 cents, respectively.
The largest increase was seen in the West Coast less California region, where prices jumped by 32.9 cents, followed by California, which saw a 28.9-cent increase.
The nation's cheapest diesel can be found in the Gulf Coast region at $5.31 per gallon, followed by the Midwest region at $5.47 per gallon.
The most expensive fuel is in California at $6.83 per gallon, followed by the Central Atlantic region at $6.20 per gallon.
Prices in other regions, according to EIA, are:
New England -- $6.20
Lower Atlantic -- $5.71
Rocky Mountain -- $5.59
West Coast less California -- $6.00
ProMiles' numbers during the same week saw fuel prices increase by .02 cents, bringing its national average to $5.43 per gallon.
According to ProMiles' Fuel Surcharge Index, the most expensive diesel can be found in California at $6.54 per gallon, and the cheapest can be found in the Gulf Coast region at $5.17 per gallon.
[Related: Trucking 101: Understanding fuel surcharges]
Arizona DOT adds truck restriction signs along I-10
To promote safety on a 20-mile segment of I-10 between Phoenix and Casa Grande, the Arizona Department of Transportation, in collaboration with the Department of Public Safety, is installing new signage that will restrict heavy vehicle truck traffic on this busy section of highway to the right lane only.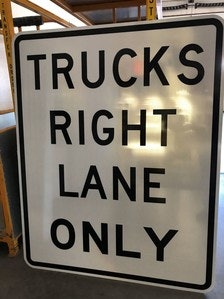 The signs are an interim safety measure along the final two-lane stretch of I-10 between Phoenix and Tucson, ADOT said, that has yet to be widened to three lanes in each direction.
Heavy traffic flow and truck traffic have delivered the safety concerns. Based on data for the area where the signs are being posted, heavy vehicles were involved in about 20% of crashes and 15% of rear-end and sideswipe crashes.
The signs are intended to be in place until an improvement project kicks off to widen this segment of I-10. The first step is expected in 2023 with the replacement of bridges that carry traffic over the Gila River, following required environmental review and clearance. Also, ADOT is working closely with the Gila River Indian Community and the Maricopa Association of Governments to secure federal funding to add to committed state funding, for work that could be completed as early as 2026.