Trucking news and briefs for Monday, May 23, 2022:
Daimler recalls approx. 200 Freightliner, Western Star trucks
Two separate recalls from Daimler Trucks North America include more than 200 Freightliner and Western Star trucks, according to National Highway Traffic Safety Administration documents.
The largest of the two recalls involves 185 trucks in which the gross axle weight rating (GAWR) listed on the Federal Certification Label is incorrect, which can allow the trucks to be overloaded, the recall states. Affected trucks include certain 2020 Freightliner Cascadia, 2020-2022 Western Star 4700 and 5700, 2022 Western Star 4900, and 2020-2023 Freightliner New Cascadia models.
Dealers will be replace the GAWR labels for free. Owners can contact DTNA customer service at 800-547-0712 with recall number FL-933. NHTSA's recall number is 22V-338.
The other recall affects approximately 24 model year 2022 Freightliner Cascadia trucks in which the antilock brakes (ABS) and electronic stability control (ESC) systems may be manually disabled. As such, the trucks fail to comply with the requirements of Federal Motor Vehicle Safety Standard numbers 121, "Air Brake Systems," and 136, "Electronic Stability Control Systems on Heavy Vehicles."
Dealers will correct this feature to bring the trucks into compliance. Owners can contact DTNA customer service at 800-547-0712 with recall number FL-932. NHTSA's recall number is 22V-339.
[Related: 17,000 Kenworth, Peterbilt truck recalled]
Washington state revives rest area free coffee program
After more than two years, volunteer groups across Washington state can once again participate in the state's free coffee program at selected safety rest areas, providing coffee to truck drivers and the traveling public. The program was shut down in March 2020 due to COVID-19 pandemic safety concerns.
The free coffee program promotes safe highways by providing coffee to reduce drowsy driving, the Washington State Department of Transportation said. Volunteer non-profit groups dispense the free coffee at 34 designated rest areas operated by WSDOT.
In addition to coffee, travelers get a chance to learn more about the local volunteer group and can also make a voluntary donation for the coffee.
[Related: Follow the orange ribbon to Logan's Lunch for truckers ...]
Penske Truck Leasing opens new location in New Jersey
Penske Truck Leasing recently opened a new facility in Cranbury, New Jersey, located at 2682 US 130 North, near exit 8 and 8A of the New Jersey Turnpike and U.S. Route 1.
At this location, Penske offers consumer and commercial truck rental, full-service truck leasing and contract truck fleet maintenance.
It is also outfitted with the company's proprietary fully digital and voice-directed preventive maintenance process and Penske digital experience solutions, as well as options related to onboard technology systems (ELDs, telematics, onboard cameras, etc.).
"We've outgrown the South Brunswick facility by 10-fold in the past 30 years," said Mike Duquette, New York Metro area vice president for Penske Truck Leasing. "When we first opened, the location serviced nearly 200 vehicles out of two truck bays -- now, three decades later, we service over 2,000 vehicles out of three truck bays; this new state-of-the-art facility was eminent."
The location is 22,995-square-feet and sits on 9.62 acres. It features five drive-thru bays with 10 service areas and is complemented by an additional 10 covered service areas hugging the facility. It also has an automated wash bay, and a full-service three lane fuel island.
[Related: Outsourced maintenance/acquisition for zero-debit operation: STS Delivery's full-service leasing model]
Trucker named Highway Angel for helping motorist after rollover crash
The Truckload Carriers Association has named truck driver Mike Pagel, of Boca Raton, Florida, a Highway Angel for coming to the aid of a young motorist who sustained injuries following a vehicle rollover. Pagel drives for Koleaseco Inc., based in Hudsonville, Michigan.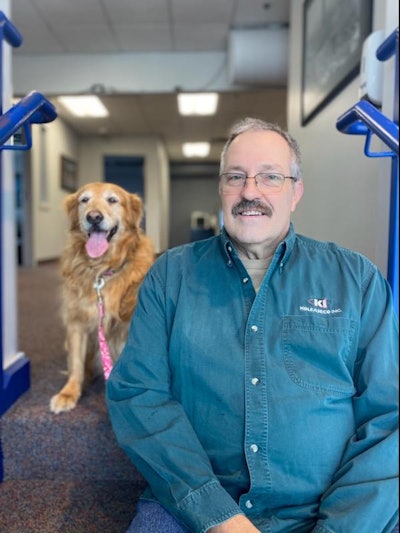 He was driving on the afternoon of March 24, 2022, on I-80 near the village of Potter, Nebraska, when he witnessed a pickup truck veer off the side of the road, overcompensate, and swerve back across traffic.
Moments later, Pagel watched as the vehicle rolled several times before landing off the roadway, coming to a rest on its passenger side. Without a moment to spare, he safely pulled to the shoulder, dialed 911, and then ran to the mangled truck.
"He didn't know what happened," Pagel said. "He wasn't moving at all when I first got to him." Pagel crawled into the truck with the man and noticed he had bad gashes on his head and neck and was bleeding from his mouth.
Though Pagel has no formal medical training, he attempted to hold the driver still because he wasn't certain if the man had suffered a spinal injury.
"I was kind of in an awkward position," Pagel said, "because a lot of the windows were smashed out and the roof was kind of compromised, so I was just trying to keep him from hurting himself even more."
Nearly 30 minutes later, emergency responders arrived, but Pagel continued to assist in holding the driver steady as the rescuers worked diligently to cut the roof off the vehicle.
"I had my arm resting underneath his head holding his head off some metal that had been torn -- it was sharp," he added
The emergency personnel were impressed with Mike's efforts. "I've been in EMS for 21 years and Mike is one of only a handful of people I've witnessed help as much as he did," said Jason Teters, a first responder at the scene. "We could definitely use more people like him."
The driver was eventually pulled from the vehicle and is recovering.
TCA presented Pagel with a certificate, patches, lapel pin and truck decals. Koleaseco also received a letter acknowledging their driver as a Highway Angel.