Trucking news and briefs for Thursday, May 19, 2022:
Detroit launches new active brake-assist system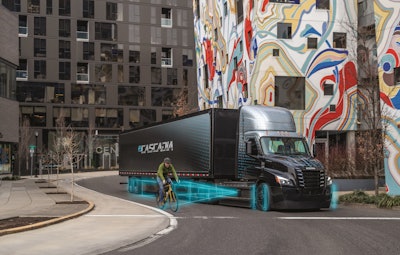 Detroit announced Wednesday it has added Active Side Guard Assist (ASGA) to the Detroit Assurance suite of safety systems to providing auto-braking support in low-speed, passenger-side turns.
Planned for production beginning Sept. 1, ASGA detects moving objects in the path of a right-hand turn at speeds below 12 mph and applies the brakes, which the company said could improve safety at intersections and in truck yards and freight terminals.
Detroit Assurance with Active Brake Assist 5 (ABA 5) uses always-on, fused radar and camera technology to monitor the road and mitigate potential collisions. Detroit said ASGA is the first feature of its kind available in the industry.
Said Mary Aufdemberg, general manager, product strategy and market development, "By alerting drivers to blind spot hazards and braking to mitigate collisions, Active Side Guard Assist adds another layer of protection for drivers and the public."
The Side Guard Assist option was originally launched in 2020 to detect and warn the driver of moving objects along the length of the passenger side of the truck, but did not provide braking. With ASGA, when the side-mounted radar detects a moving object, such as a pedestrian or bicyclist, along the length of the passenger side of the tractor, the driver receives a yellow warning triangle in the right-side A-pillar. If the driver sets a right-hand turn signal or begins a right-hand turn, the yellow warning triangle turns red, an audible alarm sounds, and braking engages.
ASGA is an option on Freightliner Cascadia and Western Star trucks equipped with Detroit Assurance with ABA 5, including the newly released Freightliner eCascadia.
[Related: Old-school ways with new-school tools: Back to efficiency basics with advanced safety systems]
New Kenworth T680 up for grabs with Transition Trucking award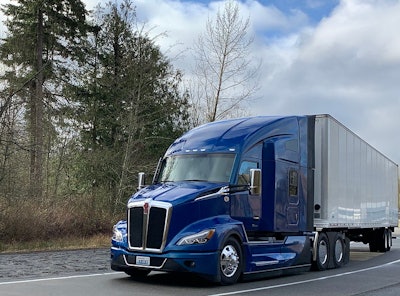 Kenworth, Fastport and the U.S. Chamber of Commerce Foundation's Hiring Our Heroes initiative again are teaming to find America's top rookie military veteran truck driver who made the successful transition from active duty to driving for a commercial fleet.
Under the "Transition Trucking: Driving for Excellence" recognition program, Kenworth will provide the top award for the seventh consecutive year. For the first time, that award is a Kenworth T680 Next Generation. The T680 Next Gen is equipped with a 76-inch sleeper and Paccar powertrain featuring the Paccar MX-13 engine, Paccar TX-12 automated transmission, and Paccar DX-40 tandem rear axles.
"We urge fleets in America to nominate their best drivers who have served our country and encourage those transitioning from military service to consider the trucking industry as their future career," said Genevieve Bekkerus, Kenworth director of marketing. "We look forward to presenting the Kenworth T680 Next Gen keys to a well-deserving veteran as America's top rookie military veteran in our industry."
The top driver will be determined by an expert panel of judges. To qualify, drivers must meet three eligibility requirements. Each driver must have ...
Been active military or a member of the National Guard or Reserve.
Graduated from a Professional Truck Driver Institute-certified school or a National Association of Publicly Funded Truck Driving Schools or Commercial Vehicle Training Association member driver training school, and hold a valid CDL.
First hired in a trucking position between January 1, 2021, and July 31, 2022.
The nomination period begins June 10, and the final deadline is July 31. Full criteria and online nomination forms will be available here in June.
CH Robinson's Carriers of the Year
C.H. Robinson this week named the winners of its 2022 Carrier of the Year Awards.
Selected from the company's network of more than 85,000 contract carriers, the program recognizes 17 outstanding companies for their exceptional quality of service and operational excellence, including timeliness, reliability and adoption of technology to increase efficiencies for their business and customers, the company said.
The fifth annual celebration includes an event that will bring together both 2021 and 2022 winners for an in-person ceremony at C.H. Robinson's Eden Prairie, Minnesota, headquarters on May 22-24. Honorees will be awarded prizes and further recognized through C.H. Robinson's ongoing carrier appreciation initiatives.
The full list of the C.H. Robinson 2022 Carrier of the Year Winners includes:
Libra Line -- Downers Grove, Illinois
CJ Transportation -- Hiawatha, Kansas
Land Horse -- Chicago, Illinois
Southern Arizona Transport -- Rio Rico, Arizona
Dieselgrid -- Griffin, Georgia
BR Transport -- Eagle Pass, Texas
Solid Transportation Services -- Waterford, Michigan
Timmons Transit -- Jonesboro, Arkansas
JIT -- Memphis, Tennessee
CR England -- Salt Lake City, Utah
TTR Transportation -- Owasso, Oklahoma
CR Smith Transport -- King George, Virginia
East Mountain Transport -- Cocoa, Florida
Colonial Freight Systems -- Knoxville, Tennessee
Seneca Foods Corporation -- Janesville, WI
Old Dominion Freight Lines -- Thomasville, North Carolina
Southeastern Freight Lines -- Lexington, South Carolina
[Related: How COVID fast-tracked an explosion in power-only trucking opportunity]