Previously in this package: How to jumpstart a career trucking in oilfield services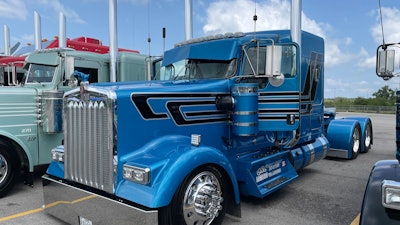 In addition to the longer payment terms making managing cash flow a tougher proposition than in most niches, you can also expect increased maintenance costs in oil services hauling due to the on-/off-road nature of the business. Most of the lease roads going to oil wells are not paved -- or well-maintained, operators note.
Louisiana-based small fleet owner John McGee said the gravel on lease roads wears tires down much faster than highway driving.
Today he buys 16-ply tires from Continental that are designed for rock mining because 14-ply tires were getting cut up too quickly. He said his fleet runs virgin tires on their trucks and recaps on their trailers twice. Even running 16-ply tires, his units average getting just 60,000 miles out of a set of steers and 40,000 miles out of a set of drive tires. For trailer tires, he gets about 40,000 miles out of each cap.
"Start to finish, about 125,000 miles or so is all we're getting out of that [trailer] casing," he said.
Clifton Morrison, with CD Farm and Oilfield Dozers, added that those chips rocks may take out of an oilfield-hauling rig's tires inspectors don't exactly look fondly on. "DOT doesn't like that," he said. "They'll give you a warning or citation. It's kind of hard on air ride suspensions, too. Every now and then you'll lose an airbag or two because the ground is so rough. You just have to take your time and go slow."
The rattling and torquing of the cab on the uneven roads starts to loosen parts of the interior over time. McGee keeps his trucks on about a four-year trade cycle because, after the third year, he said, the dash and other components really start to rattle. He's added air ride on all of his equipment, which he said has cut down on suspension maintenance. "With a spring suspension," he said, "you're zipping along at 15-25 miles an hour in an 80,000-pound truck and you hit a pothole you can't see because it's filled with water or it's nighttime -- you'll break a spring in a heartbeat."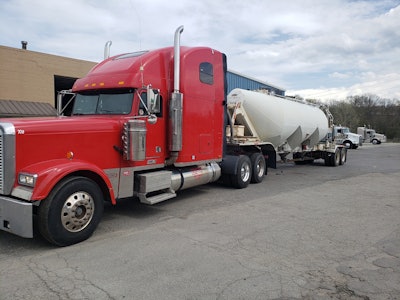 Small fleet owner Frank Bowman, pulling pneumatic trailers hauling frac sand, points to heavy wear and tear on the power takeoff (PTO) drivelines, given the truck-mounted cyclomatic blowers that are used to pressurize the tanks to blow the sand out.
"Running over these roads, it's not like an interstate highway where you put a cup of coffee on the dashboard and go on down the road," Bowman said. "We're constantly beating the death out of the truck."
Being aware of your surroundings and taking it slow can help cut down on maintenance costs, though. Driskill said when he was doing oilfield work, he'd find himself going 5 mph down the lease roads so he didn't tear up his suspension. "I was always experimenting with different shocks to see what would give me the best ride," he added. "The main solution was just to drive slow. Sometimes it'd take 2-3 hours to get to a rig."
Equipment Express owner Truett Novosad, whose fleet runs primarily truck-show-quality equipment pulling lowboys, said his drivers stay under 10 mph on the lease roads to keep the trucks in good shape. "A general oilfield guy with the 'get-it-done-no-matter-what' attitude will drive 40 miles an hour down a dirt road," Novosad said. "My guy will drive 5 to 7 to maybe 10 miles an hour. They don't destroy [the equipment] because they appreciate it."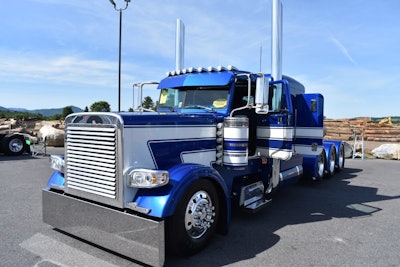 When spec'ing for oilfield hauling, all of these factors have to be taken into consideration. Lowboy trailer manufacturer Talbert makes oilfield-specific lowboy trailers that the company says are built to better withstand the rugged terrain.
"Although each Talbert trailer is built to handle the harsh conditions of drill site loading and unloading, there isn't simply a one-size-fits-all trailer that is made for the oilfield industry," said Troy Geisler, vice president of sales and marketing for Talbert. "Businesses should consider several factors to ensure they are selecting the best-fitted trailer for their transportation needs."
Among those factors are the commodity being hauled, how much of the trailer's life will be off-road and more.
"Ultimately, businesses need to understand that there is no such thing as a 'Swiss Army knife' heavy-haul trailer," Geisler said. "Equipment is only going to continue to get bigger, wider and taller. Looking toward the future and selecting a versatile trailer that can add new components, like additional axles, will allow the trailer to be customized down the road to handle an even larger capacity."
Read next: 'Rough and tough' isn't always part of the oilfield hauler's job description
Also in this package:
**Truckers mostly filling up on profits in 'feast or famine' oilfield trucking niche
**How to jumpstart a career trucking in oilfield services