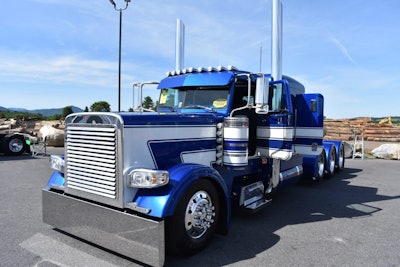 This highly-customized 1999 Peterbilt 379, driven by Matt Brune and owned by Caldwell, Texas-based Equipment Express, was named Best of Show First Runner Up at Shell Rotella SuperRigs earlier this summer.
Among its many custom features are Peterbilt 389-style headlights, suicide doors, 389-style cab-mounted mirrors, drop panels, a 305-inch wheelbase, air-ride front end, Pickett fenders, eight-inch stacks and more.
Inside the rig, the interior is all custom as well with upholstery and features to match the truck's exterior. Brune says the even upholstery on the doors was done to seamlessly match the striping of the paint job on the truck's exterior. The aluminum floors and dash are also painted blue and white to match the rest of the rig.
Under the hood is a 600-horsepower Cat 3406E with an 18-speed and 3:70 rears. After an engine fire a few years ago, the engine had a platinum rebuild. The rig has around 1.3 million miles on it.
Brune pulls an RGN trailer with the truck doing mostly pipeline work.