Just more than a decade ago, owner-operator Don Wood was prepping a recently purchased 2003 Peterbilt 379 former fleet sleeper truck as a custom daycab. He was about to go hauling local with another outfit and hoping to meet his then-young children's home needs after years over the road. That wouldn't last more than a couple years itself before, though, Wood was back out on his own. As customers leaned on him for their transport needs, and fellow operators he knew needed work, he began to buy other trucks.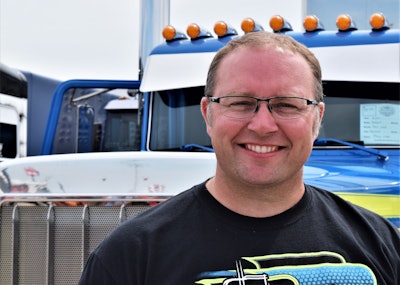 He knew he had the customers to keep them going, that's sure. Over the next decade up to the present, DSD would grow to more than 30 trucks, some owned and some leased and owner-operated.
How has he kept up with the demands of growth? Part of it has to do with the nature of those customers' freight, including a lot of direct contracts and particular open-deck jobsite work that doesn't require constant negotiating with brokers.
[Related: The secrets to growth -- Overdrive's Small Fleet Champ finalists dish on limitations and keys to success]
Another part: Wood recognizes the true value of what little support staff he and DSD drivers and leased owner-ops have. More's coming in that regard, he said. Take a listen:
Also in the podcast: Overdrive News Editor Matt Cole live from SuperRigs. Cole's on the ground in Hampshire, Illinois, at the Love's there covering the annual Shell Rotella event. In the podcast we talk through some of the highlights from his first day there, including the cabover of J.R. Schleuger, and this unique (at least to North America) trailer from Belgian manufacturer Faymonville.