Trucking news and briefs for Monday, March 8, 2021:
New 19-axle super-heavy-haul trailer
Within the HighwayMAX family of Faymonville trailers is the new Dolly&Booster, an extendable super-heavy-haul unit composed of nine hydraulically-steered pendle-axles, a three-axle jeep dolly and a three-axle nitro booster. This "King of the Highway," the company said, can save time and money with quick and easy assembly and disassembly, and is new to the North American market from the Belgian manufacturer.
Besides fast mobilization, customers can benefit from flexible use, Faymonville said, as the jeep dolly and booster are detachable, and can be loaded on the trailer for empty runs minus expensive and time-consuming permits. The truck and trailer combination length is less than 110 feet and the loading platform can be extended up to 82 feet. The spacing between axle tridems is adaptable to 14, 16, 18 and 20 feet.
Maneuverability is achieved with pendle-axle technology with 23.6" of stroke. The trailer is king-pin steered with a steering angle up to 60 degrees. Additionally, U.S. heavy haulers, the company said, will enjoy the low driving height and back-up features. A fully galvanized frame ensures corrosion protection.
Ohio truck show to feature custom trucks, bevy of entertainment, more
The Outrageous American Truck Show (OATS) in Millersburg, Ohio, will feature not only custom trucks, vendors and other typical truck show attractions, but it will also feature entertainment from a variety of familiar entertainers over the four-day July event. OATS will be held July 8-11 at the Holmes County Fairgrounds. Entertainers scheduled for the event include trucker-songwriters Tony Justice and Bill Weaver, past Trucker Talent Search winners Mandi Jo Brown and Taylor Barker, as well as past finalist and Overdrive contributor Paul Marhoefer, among others.
In addition to the trucks and entertainment, OATS is hosting a fully sanctioned semi-truck pull, a world record human cannonball attempt being shot over a long line of semi-trucks, live bull riding, a full professional pilots RC air show and more.
The show is also making available to the attending drivers a full laundry service, barber service for men and a hair and nail salon service for women and free flat tire repair/changing service and more.
The trade show portion of OATS will be free to attend. Tickets for the entertainment and other events are available online and must be purchased before the show. Tickets will not be sold at the fairgrounds during the show, organizers say, and range from close to $30 for a single-day pass to $99 for the full four-day pass. Find more info via OATS2021.com
Trucker named Highway Angel for helping rescue motorists from burning vehicle
Forest, Mississippi-based Christopher Lloyd, a truck driver for Airline Transportation Specialists, has been named a Highway Angel by the Truckload Carriers Association for stopping at a crash scene to rescue two motorists after their car hit a utility pole and erupted into flames.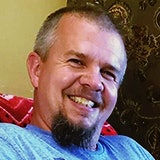 Lloyd was driving in the pre-dawn hours one morning in late November along a surface street on his way to the FedEx hub in Nashville when he came upon a single-vehicle crash. A car had struck a galvanized power pole at a high rate of speed. When Lloyd arrived, the engine compartment was completely engulfed in flames.
"There were other vehicles pulling up and watching, taking pictures, but not getting out to help," Lloyd said. He tried to put the flames out with his fire extinguisher but couldn't put them out completely. He also tried to open the doors but found them locked.
"I ran back to the truck for a winch bar and my 10-pound hazmat extinguisher to finish putting the fire out and to bust out the windows," he said.
The car's cabin was filled with smoke, and other people were now stopping to help. Lloyd found the female driver pinned behind the wheel.
"She was unresponsive, but breathing," he said. "The male passenger ended up in the back seat and was in pretty bad shape. I checked and found a pulse and he was breathing."
He directed another person to hold the man's neck still and not to move him. Lloyd says that since the fire was extinguished that was the safest thing to do until emergency responders could arrive. The driver and passenger were both transported in extremely critical condition. Lloyd later learned that he was the only one who called 911. A police officer told him the pair would have burned alive if it weren't for him.
"That wasn't my normal run that night," Lloyd said. "The driver that usually takes that run had broken down. The dispatcher called and asked if I could take it. I was delayed by over an hour, but somehow it all lined up for me to be there at that precise moment in time to hopefully save their lives."
He hasn't been able to get an update on their condition. "I hope the best for them," he said.
Lloyd shared that he became a volunteer firefighter at the age of 16 and went to a firefighting academy. He later joined the Coast Guard.
"The night of the fire, it all came flooding back…how to manage a scene," he said. "Just like it was yesterday."
TCA has presented him with a certificate, patch, lapel pin and truck decals. His employer has also received a certificate acknowledging their driver as a Highway Angel.