Trucking news and briefs for Thursday, Jan. 28, 2021:
Tesla Semi on pace for 2021 debut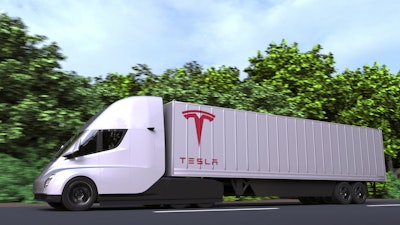 Tesla's oft-delayed battery-electric autonomous Semi is still set for 2021 production, the company noted in its earnings release Wednesday, despite company founder and CEO Elon Musk noting that "it would not make sense for us to do the Semi right now" due to a shortage of battery cells.
"The main reason we have not accelerated new products – like, for example, Tesla Semi – is that we simply don't have enough cells for it," he said. "If we were to make the Semi right now, and we could easily go into production with the Semi right now, but we would not have enough cells for it."
Semi would use, Musk said, about five times more cells than a passenger car, yet would not retail for five times what a car would sell for, "so it kind of would not make sense for us to do the Semi right now," he said. "But it will absolutely make sense for us to do it as soon as we can address the cell production constraint."
Once production ramps on Tesla's 4680 battery pack – which the company expects will be more energy dense, enabling greater range – Musk said he expects to have the cell volume to get Semi rolling down the assembly line. –Jason Cannon, CCJ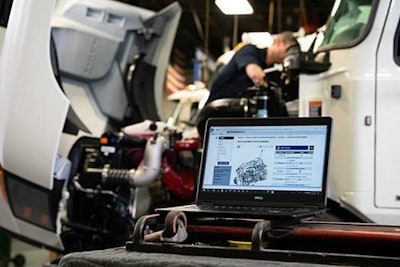 Pilot raising money for American Heart Association
Pilot Company announced Thursday the return of the American Heart Association's Life is Why campaign to its stores in February, which is American Heart Month.
Pilot customers will have the opportunity to round up their sale or purchase a paper heart to support AHA throughout the month.
"We continue to be inspired by the countless stories shared by team members, guests and loved ones demonstrating the importance of heart and brain health," said Brian Ferguson, chief merchant of Pilot Company. "The importance of giving to raise funds for the American Heart Association's critical research and programs is greater than ever, especially due to COVID-19. With everyone's help, we can make a difference for someone's 'why' and improve the well-being of those in our communities and all over the world."
Pilot's fundraising initiatives include:
Paper heart icons being sold for $1, $3 or $5
Pin-pad round-up or donations
Online donations through the company's website
All proceeds raised will directly benefit American Heart Association programs.
Extra day for new oversize/overweight permits before Indiana transitions to new system
As previously reported in Overdrive, the Indiana Department of Revenue's move to a new oversize/overweight permits system is set to occur early next month and the transition will feature a blackout period for new online permit applications for approximately a week. Blackout was set to begin midnight at the end of Monday, Feb. 1, but the state has announced heavy/specialized haulers now have through the end of the day Tuesday to begin a new application.
As noted in prior reporting, the current system will stop accepting new permit applications at that time, and customers who have incomplete permits in the system will need to reapply in the new system starting Feb. 8, when it's scheduled to come online for new applications. After Tuesday, Feb. 2, users will have through Thursday, Feb. 4, to view, pay and print permits that have already been applied for in the current system.