Previously in this package: Truckers mostly filling up on profits in 'feast or famine' oilfield trucking niche

Breaking into the oilfield business as an independent or small fleet without any prior experience as an operator isn't an easy task. Depending on what you're hauling and who you're hauling for, the first step could be establishing the latter relationship to get listed as an approved vendor to haul for the customer you want to serve.
Small fleet owner John McGee started out in oilfield in 2004 when he leased to another carrier in the northern Louisiana area and helped the owner run parts of the operation. During that time, he built relationships with some of the customers, and when the man sold the business in 2011, McGee struck out on his own and "was able to maintain a relationship with some of his existing customer base and get my foot in the door and get some contracts."
Owner-Operator Clayton Driskill, with many years of experience behind him pulling a step deck mostly in support of well-completion operations, suggested that the best way for an owner-operator or small fleet owner to get their foot in the door in oilfield is a route similar to the one McGee took -- to lease to a good oil-services hauler that's already established.
"They'll help you get that experience you need, help you get in the door and learn the business," Driskill said.
[Related: Rising oil prices -- for this dry bulk hauler, there's far less fear than opportunity]
He added that many of the bigger oil companies -- Shell, BP, Chevron, etc. -- have a vendors list that a carrier has to be on to be able to haul for them. To get on the list, a carrier has to be referred by an engineer.
"It doesn't happen overnight," Driskill said. "It's all about building relationships. Without being on a vendors list, [coming to the oilfield] won't do you any good unless you find some smaller oil companies that don't have a list. You generally can't just cold turkey get in on your own with any of the big players."
Compensation terms in the oilfield business are different than in most other segments of trucking today. Most oilfield contracts come with traditional 90-day payment terms, and McGee noted most companies wait "until the 89th day" to pay you. Because of this, companies getting started in the oilfield need to have several months' worth of cash flow to weather the storm until the first payments start rolling in.
McGee's general rule of thumb when he adds a new truck is to have $125,000 in the bank to cover the truck until he gets the first invoiced payment for the work that the operator and truck have put in.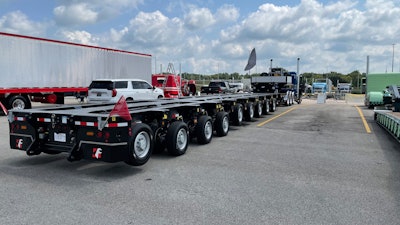 Equipment Express owner Truett Novosad echoed McGee's advice, stressing it's imperative that operators in the oilfield know how to control their cash flow.
"If somebody's not good with cash flow, I don't recommend oilfield," Novosad said. Given the typical 90-day terms, "you've got to roll it a lot longer. The rewards are there, but you have to be able to bridge that gap."
Novosad added that companies will look at oilfield rates when times are good and try to make the jump. Rewards can be great, but they're not without risk, he said. "Some people don't like that risk, but some people don't mind it because they like the reward."
Whether you decide to lease on with an established carrier or venture out on your own, you also have to consider the cost of equipment. Assuming you already own a truck, buying the right trailer for the job can add tremendously to up-front costs.
Small fleet owner and frac sand hauler Frank Bowman said he typically tries to buy used dry bulk pneumatic tank trailers, ranging from around $15,000-$30,000. "I'd rather buy used and put $5,000-$10,000 in it than buy new at the current prices," he said. He said new pneumatic tanks can run upwards of $80,000.
McGee buys his fleet's liquid-bulk trailers new from Texas-based Dragon Manufacturing, and his newest trailer cost him $68,000. The trailer itself cost $48,000, he said, and a steel surcharge added $20,000. McGee noted the surcharge on steel has increased fairly dramatically over the last couple years due to the tariffs on Chinese steel imports.
Conversely, Clifton Morrison, owner of CD Farm and Oilfield Dozers, has found a part-time niche in oilfield with a power-only gig. Through some connections, Morrison linked up with a business that buys oilfield equipment, refurbishes it and resells it. "I go rescue those and take them back to his yard, where he either refurbishes them or scraps them out and gets the working parts off of them," he said.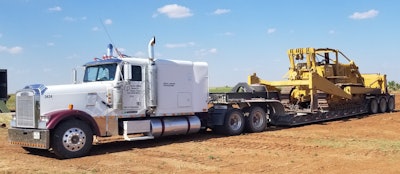 A typical job is to take his tractor into an oilfield and bring out frac pumps already sitting on trailers. "It's generally fairly lucrative," Morrison noted. "I charge so much per deadhead mile and per loaded mile. It's been pretty good for me."
Ultimately, Driskill said, the oilfield "has really good opportunities for small owner-operators." He said it gave him the opportunity to grow from a hotshot hauler with a 1995 Ford F350 dually to owning a Class 8 truck and at one time having another truck leased to his authority.
"I wouldn't discourage anyone from getting into the oilfield," he added. "It is a good living, but you have to know" what you're getting into. "You find your niche" within the broad oilfield services hauling market, "and I think you can be real successful."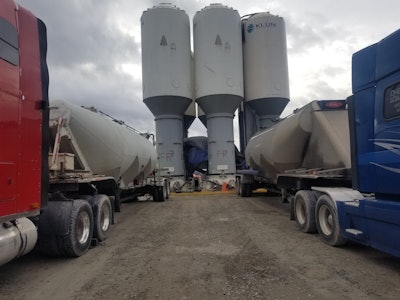 Bowman said oilfield is a business that, all things considered, "can eat you up and spit you out." But, if done right, it can be niche where profits are achievable long-term.
"If you work hard, put your head down, you can do about $300,000-$350,000 per truck" in revenue, he said. "It hasn't been that way" as much recently, he noted, but "years ago, I used to do $1 million with three trucks running solid, and we got some time off."
Read next: Oilfield hauling: Strategies to mitigate maintenance costs, high given on-/off-road nature of much of the work
Also in this package:
**Truckers mostly filling up on profits in 'feast or famine' oilfield trucking niche
**'Rough and tough' isn't always part of the oilfield hauler's job description