Tom Quimby
Debuting a hydrogen engine is one thing. Having the fuel infrastructure in place to support it is another. Cummins is feeling bullish about both.
Not long after introducing their first hydrogen engine, the 15-liter X15H that's part of Cummins new fuel agnostic platform, CCJ sat down with Cummins' general manager of hydrogen engine business Jim Nebergall to learn more.
[Related: Fleets share ride and drive impressions of zero emission trucks and vans]
The 15-liter engine and a smaller 6.7-liter version are both part of Cummins' new fuel agnostic platform where each fuel type's engine has largely similar components below the head gasket. The components above the head gasket will dictate fuel use during Cummins' roughly 30-year journey to zero emissions which will also include propane and gasoline variants.
But it's the clean hydrogen-burning 15-liter that got the spotlight recently at the Advanced Clean Transportation Expo in Long Beach, Calif. where Cummins introduced the heavy-duty workhorse that offers power comparable to a diesel while running on the most abundant element in the universe which, ironically enough, is in very short supply at America's fueling stations.
[Related: Westport debuts hydrogen HPDI system]
The U.S. Department of Energy's Alternative Fuels Data Center currently shows only 48 public hydrogen stations in the U.S., all of which are confined to California. Hydrogen's greatest competitor and current zero-emission champion, all-electric, offers 48,000 Level 2 D.C. fast-chargers and 6,200 Level 3 D.C. fast-chargers across the U.S.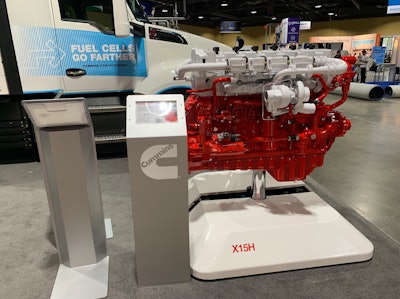 What the DOE doesn't make clear are the number of 1 to 2 megawatt chargers which Class 8 trucks need for D.C. fast-charging. The vast majority of EV chargers on the road are intended for light duty passenger cars and pickups like the Rivian R1T and Ford F-150 Lightning.
[Related: Zero-emission status possible for hydrogen combustion]
As Cummins and other hydrogen players know only too well, this Class 8 charging gap is where hydrogen can gain ground particularly as heavy-duty transportation continues to bear the burden of being the biggest contributor of vehicle-based emissions. Not only that, but as Nebergall pointed out, a hydrogen engine versus all-electric offers a less costly entry point and greater efficiency at a time when company sustainability plans continue to come under scrutiny by both independent investors and major investment firms like BlackRock.
"The hours of operation limit driver time, the weight, what we're used to hauling on the trailers—those things are just really hard for battery electric with weight limits, charge time and the initial cost is just so high and also the future of battery replacement is such an unknown, I think there's just more recognition that we need something that feels more like diesel from a fill-time perspective," Nebergall said.
With a 10- to 15-minute fill-time, Cummins' 15-liter hydrogen engine can easily outpace an electric charger while providing 500 miles of range. The latest Freightliner eCascadia offers roughly 230 miles of range while Volvo's newest VNR Electric provides up to 275 miles. Average charge times for either of those trucks from virtually dead to full charge will easily exceed an hour with more time needed for larger batteries.
"With the fuel tanks that we're targeting, we feel 500 miles is just the right amount for what people will be doing especially to start because they'll still need to think about access to fuel and infrastructure," Nebergall said. "We've gotten positive feedback from customers. There's a really strong portion of the market where that will work really, really well in both regional and long haul."
And while hydrogen stations are few and far between, Cummins sees that changing soon enough to support the engine's 2027 production launch. (Nebergall didn't offer an exact production year for the 6.7.)
"We're encouraged by the infrastructure bill that the senate passed last year that put 8 to 9 billion towards hydrogen hubs and green hydrogen," Nebergall said. "That's really going to help accelerate infrastructure across the nation and because of the focus on green hydrogen and the need for it, the cost is going to come out really favorably."
Green hydrogen is produced through electrolysis, a process that relies on electricity to produce hydrogen from water. When powered by renewable energy like wind, solar or hydropower, the fuel's well-to-wheels carbon intensity score drops considerably.
Not zero emissions but still 'a dramatic improvement'
Though a hydrogen engine may offer a lower cost of entry over all-electric and hydrogen fuel cell, it can't beat either powertrain on emissions.
Nonetheless, the numbers Cummins is seeing so far represent a big drop from today's standards.
The byproduct of hydrogen combustion according to Nebergall is water, carbon dioxide and nitrogen oxide.
"From a CO2 perspective, it's a 99-plus percent reduction in carbon," Nebergall explained.
Why not a 100% drop in CO2? As Nebergall pointed out small amounts of oil in the crankcase still make its way to the combustion chamber where it's burned and a result, "a little bit of carbon comes through the tailpipe."
NOX levels drop substantially in hydrogen combustion versus conventional diesel.
"We'll easily see a 75% reduction in NOX from today's standards," Nebergall said. "That's a dramatic improvement especially considering that NOX is already down 90 percent over the last 20 years. That's active research right now to see how low we can go in NOX."
NOX gets even better when the 15-liter is running under a load at a steady rate of speed. That's something that Cummins is currently taking a closer look at through testing.
"It's almost like no NOX at all when it's at steady state," Nebergall continued. "You're only getting NOX during transient. So when you're getting accelerations, the transient behavior, that's when the NOX is created. At steady state, it's extremely low but I can't quantify that number yet. I'd like to get that because I think it's going to be quite compelling."
What's also compelling is capability. In addition to offering 500 miles of range, the 15-liter hydrogen engine will offer a level of power that Cummins' customers have come to rely on with their popular oil burners.
"On the 15 liter [hydrogen]we're going to overlap our current diesel ratings for our efficiency series, which is the key, mass market, high volume, 15-liter engine that meets all the fleet needs from 400 to 500 horsepower," Nebergall said. "We're really excited about that."
Though the X15H offers advantages over all-electric, it's still not zero emissions. To that point, Cummins continues development in zero-emission powertrains and brought its fuel-cell electric truck to ACT Expo last week in Long Beach, Calif.
"There's obviously a lot of interest in battery electric," Nebergall said. "That smaller, lesser asset utilization and when they return to base—there are certain situations where if you don't push the asset a lot, electric can make a lot of sense. And that's the case for a lot of our medium duty trucks. They have a line of sight towards battery but then there's still aggressive duty cycles and where they have limited access to infrastructure from electric where fuel cells and engines can make a lot of sense."