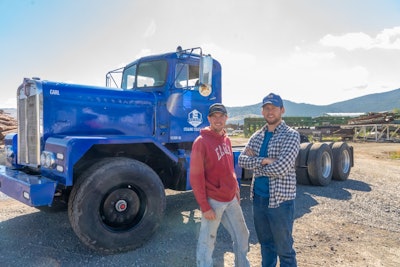 Courtesy of Chace Barber
Previously in this series: Trucking's toughest niche? Inside log hauling, which may be on the brink of a powertrain revolution
Chace Barber's 1962 Kenworth LW-923 has made headlines after he gutted it and turned it into a diesel-electric hybrid using off-the-shelf parts, electrical engineering knowhow from his side business selling and installing solar power gear, and plenty elbow grease. While he does credits Eric Little, his log-haul business partner and a "brilliant electrical engineer" for helping him build his prototype and launch Edison Motors company, it's also his many years of heavy off-highway log hauling that brought him to this point.
All those years barreling down the winding, dangerous roads, all that time he spent behind the wheel elsewhere, he spent thinking, too. Barber's career and accomplishments thus far challenge conventional wisdom that change in trucking must always come from regulation or big business. Instead, he's a log hauler determined to find a better way up and down the mountain, and he might just outsmart some manufacturers in the process.
He applied his unique perspective and experience to what he saw as an engineering problem.
"I wouldn't say it was much based on climate change and emissions, electric just makes sense," Barber said of "Carl," his electrified '62 Kenworth.
"You go up the hill empty and go down the hill heavy. Electric trucks have regenerative braking," converting kinetic energy otherwise wasted by braking to electricity to charge batteries, "so it's the perfect application," said Barber. With high torque and a lot of power, limited daily range, plus "good hold-back compared to a Jake Brake," it just made sense for log hauling, "and if that's great for the environment, even better."
That underscores the difference between Barber's new venture, Edison Motors, and major OEMs as well as up-and-comers like Tesla and Nikola. The motto at Edison Motors: "Stealing Tesla's idea" takes a swipe at the big companies and nods to the historical rivalry between inventors Thomas Edison and Nikola Tesla. But Barber would like to go farther.
The North American Council for Freight Efficiency, which continuously studies ways to drive down trucking in emissions, often by electrification, regularly reports on segments of the trucking industry ripe for it. The organization has pointed to medium-duty box trucks, dray work, and a range of other niche duty cycles that could go electric, but even the organization's executive director Mike Roethe said he hadn't exactly focused on log hauling. He did note it presented an "interesting conversation."
"Logging has predictable routes, they do a lot of time loading and unloading, kind of like beverage, and beverage is ripe for electrification," he said.
Barber, like many owner-operators, certainly feel a sense of being left behind by big business and academics projecting a vision of trucking's future that doesn't look like what he knew.
"If you wanna convince people to actually run it, give them a truck they actually like," he said. "There's a reason you see so many owner-ops with long nose Kenworths and Peterbilts. When you see the Tesla Semi, it's an extra hard reminder that you're being left behind."
On Edison Motors' website, he bills his '62 Kenworth as an EV that "isn't ugly."
Barber said he reserved the Tesla Semi the moment Tesla announced it in November 2017, but years later the truck hasn't appeared in his shop or anyone else's.
"Carl" itself remains a prototype, for now. Barber no longer hauls logs and instead has turned his focus to transforming a few 1960s Kenworths into hybrid EVs, where he replaces the primary fuel tanks with batteries and keeps under the hood a Caterpillar diesel engine. Instead of powering the drive shaft, the engine is a generator that charges the batteries.
Right now, Barber's wrestling with some engineering challenges to keep the batteries cool while testing it in a dyno at around 70 mph, pulling smaller trailers.
In his recent Today Show interview at a truck show, cameras caught up with an operator in attendance who doubted the vision. "There's no way that thing is going to haul logs," the driver said, citing years of experience log hauling himself.
"I wish they had stayed around," Barber said of the cameras. "I took that guy for a test drive, showed him the vehicle, how it works, the wiring harnesses, and he went from saying 'That will never work' to 'Well, I won't be the first to buy one.'"
That step from EV-doubter to at least "agnostic" on the issue represented a "huge step," Chace Barber believed, and it's likely one that truck builders all around might take a lesson from. Barber knocked Tesla for not sharing its technology with the broader public. At the truck show in Canada before the TV cameras, the Tesla Semi didn't show. Carl did.
Read more in Overdrive's long-running "Niche Hauls" series of close looks at a variety of trucking niches.