Trucking news and briefs for Monday, Oct. 3, 2022:
Meritor axle issue prompts Daimler, International recalls
Navistar and Daimler Trucks North America recently announced recalls related to a reported defect in certain Meritor steer axles.
According to National Highway Traffic Safety Administration documents, Meritor reported that cracking in two tie rod clamps had been discovered on their manufacturing line and that they had contained the issue to a certain affected population.
That population included approximately 451 model year 2022-2023 International HX severe-duty trucks and approximately 36 model year 2023 Western Star 4700, 4900, 49X, 6900, and Freightliner 114SD trucks.
The recalls state that the tie rod clamps may not have been properly heat-treated, causing them to fail and allowing the tie rods to separate, which could cause a sudden loss of steering.
Navistar said its dealers will replace both tie rod end clamps for free. Owners can contact Navistar's customer service at 1-800-448-7825 with recall number 22520. NHTSA's recall number is 22V-711.
Daimler dealers will also replace the tie rod clamps for free. Owners can contact DTNA customer service at 1-800-547-0712 with recall number FL955. NHTSA's recall number is 22V-722.
[Related: International A26 engine-related recall over potential connecting-rod issue]
New RNG station opens in Ohio
Clean Energy Fuels Corp. recently held a ribbon cutting ceremony with state and local officials, agriculture leaders, and company executives at its new renewable natural gas (RNG) station in Groveport, Ohio.
Amazon trucks will fuel at the station, which also will provide public access for local fleets seeking access to RNG, a sustainable fuel produced from organic waste.
"Large fleets fueling with RNG have the ability to realize immediate and significant carbon reduction, especially in the heavy-duty truck sector, which could be many years away from meaningful electrification," said Andrew J. Littlefair, Clean Energy president and CEO. "The opening of our station in Ohio is exciting because it's the first of many more to come throughout the U.S."
The Groveport station is the first construction project completed in an agreement between Clean Energy and Amazon. Many of the 19 new stations will follow Groveport and should be operational by the end of the year, supplementing Clean Energy's fueling network of 550 stations in North America.
The new station includes multiple fast-fill dispensers for easy in-and-out fueling of RNG; time-fill posts for up to 52 trucks, allowing for cost-effective fueling and transmitting real-time data to customers; and 52 parking places for drivers' personal vehicles.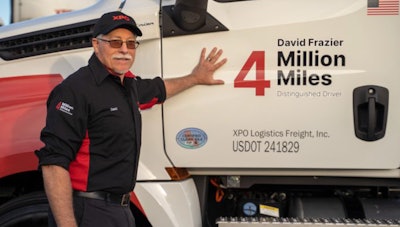 FMCSA chief to speak at WIT conference
Robin Hutcheson, administrator of the Federal Motor Carrier Safety Administration, will be the opening keynote speaker for the Women in Trucking Association's annual Accelerate! Conference & Expo.
The conference will be held Nov. 13-16 at the Hilton Anatole in Dallas, and Hutcheson will speak Nov. 14. WIT says the conference is the largest event to encourage employment, address obstacles, and celebrate the successes of women in the trucking industry. WIT expects more than 1,300 attendees this year.
"We are thrilled to have Administrator Hutcheson share her perspectives on safety in the trucking industry, supply chain challenges, and the truck driver shortage," said Ellen Voie, WIT president and CEO. "WIT has worked closely with the FMCSA in recent years, and recently hosted Hutcheson on a truck ride-along to help her better understand driver issues. The former deputy administrator, Meera Joshi, was WIT's keynote speaker in 2021."
This will be WIT's eighth annual Accelerate! Conference & Expo and the third year the association has held a virtual version of the event, which will take place Dec. 6-7. The in-person and virtual conference will feature more than 60 educational sessions on critical transportation and logistics issues through the lens of gender diversity.