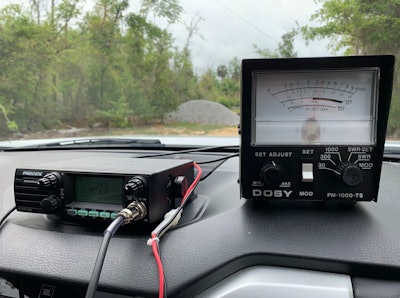 Tom Quimby
Similar to when you're spec'ing a truck, having more power in a CB radio can come in handy, or at least that's the idea when you plunk down extra cash to get extra power.
To that end, we tested President Electronics' McKinley USA 40 channel AM and single sideband (SSB) radio to see if extra transmission strength would pay off.
The McKinley, named for U.S. President William McKinley, offers four watts on the AM side and 12 watts on SSB. At $189 on Amazon, it costs $50 more than the President Johnson II, which offers the same key features without SSB.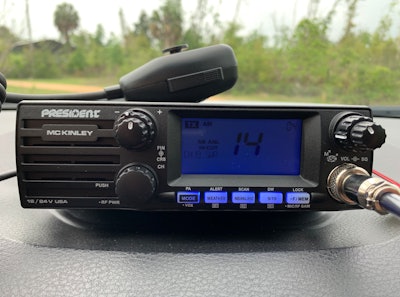 So why pay $50 more for SSB? In short, "the advantage of SSB is its narrow bandwidth and higher power efficiency than the other voice modes," according to radio experts at hamradioschool.com.
It turns out that SSB uses half of AM's bandwidth to transmit so I'd say that's definitely more efficient. Plus, with three times the power of AM, it sounds like a great option to have where comms may fall short in rural areas like ours in Northwest Florida.
[Related: Review of Cobra's new AM/FM CB radios]
SSB is divided into two modes on a CB: upper sideband (USB) and lower sideband (LSB). With a 40-channel CB, because each channel gets USB and LSB modes, you end up with 120 channels. Not bad. Again, sounds pretty advantageous like signing up for 120 channels on cable versus 40. Well, maybe not that exciting. This is CB after all where almost anyone can join the party, except in the case of SSB where the price to admission is higher.
AM-only CB radios have long dominated the market, and that's where the first advantage of SSB comes in; there's just not a lot of these radios out there, which increases the odds for more privacy and getting past annoying users since AM-only listeners cannot typically understand what's being said on SSB channels and they certainly can't transmit on SSB.
SSB radios use the same antennas as AM-only CBs. The only difference is that SSB radios feature USB and LSB modes along with a clarifier that is used to more finely tune an incoming voice on the receiving end so they sound less like an alien and more like a human being. More on that later.
Plenty of features on the McKinley
Let's start with this. If you're into smaller, more modern, high-tech CBs, then you'll be impressed with the McKinley. If you've always gravitated towards classic and large CBs like the legendary SSB-equipped Cobra 148GTL, then you probably won't be sold on the McKinley.
Being raised around CBs and Heathkit projects, I've long been a fan of just about any radio. Just like a '69 Chevy Nova SS with a nitrous injected 350 from the 80s or a computer-heavy and amazingly fast Ram TRX of today, both older and contemporary technology can be equally compelling for different reasons.
But … being more accustomed to knobs than buttons, I was admittedly concerned when I first pulled the McKinley out of its box. It wasn't just the five buttons but multi-functioning knobs as well. Case in point: the clarifier is divided into coarse and fine tuners (outer and inner knobs mounted together), while volume, squelch and auto squelch nest together on the same spot.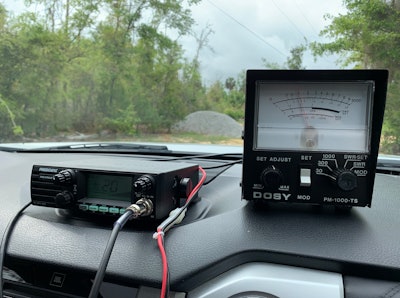 This would take some getting used to, and it did. But once I figured out the logic behind the knob and button options, I became a fan. First, you can touch a labeled button to gain access to things like transmission mode (AM/USB/LSB); weather (seven channels total); noise blanker, automatic noise limiter and hi-cut (select all to reduce more noise); instant access to channel 9 and 19; and the function key.
A short or long press of the function key gains access to other functions labeled above and below those buttons like PA, weather alert setting, channel scanning, dual watch channel mode and channel lock to keep the rig set on one channel only.
There's also access to VOX (a separate VOX jack is on the back of the CB to allow for headset use), memory channel selection, mic gain, RF gain and talk back.
Pushing the channel button opens up options that allow for LCD color changes (orange, green or blue, my favorite), LCD dimmer, color contrast, audio tone adjustment, key beep (the radio will beep every time you touch a button unless you turn it off), roger beep and automatic SWR.
[Related: Cobra talks single sideband, new product launch and more power]
President has definitely hit a home run with automatic SWR (Standing Wave Ratio). In this case, I used that feature to better match the radio to President's 28-inch magnet mount that I perched on top of my 2014 Toyota Tundra.
This was the first time I've used an automatic SWR feature, and it was super easy. It's not like I'll be throwing out my old and trusty Dosy PM-1000-TS, but wow … I'm a big fan of President's automatic SWR.
After selecting the channel you'd like to check, press the channel button until the letters SWR appear on screen. A moment later, the radio will switch to SWR mode with all CB chatter gone. What you'll hear then is anywhere from a long beep with 10 on the screen (10 in this case means an outstanding 1.0:1 SWR) or series of beeps with a higher number showing. The longer the delay between beeps, the higher the SWR. A reading of 1.0 to 2.1 is ideal. The lower the better.
When I first accessed SWR, 17 was showing on screen (again, this would be a 1.7 SWR), and I could clearly hear a series of beeps. I turned up the volume to hear the beeping better and opened the sunroof so I could more clearly those beeps while adjusting the height of the antenna whip to improve SWR.
Though hearing the beeps is helpful, even touching the antenna will impact SWR, so you'll still need to check the numbers after making adjustments. In this case, I lowered the antenna to gain better SWR at 1.2. Now it was ready for SSB testing.
Is SSB worth the extra $50?
After setting out from the house, the first stop was about a mile away. One of my sons rode along with me to help and serve as an extra pair of eyes and ears while my other son stayed behind with my classic Uniden Pro 810e AM/SSB base station.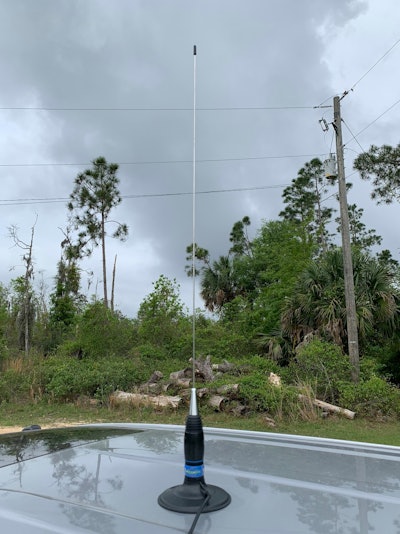 We keyed up first on AM on Channel 35, which given the close range delivered clear audio. Next, we switched to USB. My sons had never heard SSB transmissions before so they were both pretty amused by the helium-sounding voices that had to be tuned with the clarifiers to make better sense of the conversation.
I think voice quality was an improvement on SSB, but it required tuning, which is not an easy or advisable thing to do when you're driving down the road. Both of my sons thought AM sounded better on that first stop.
I was really eager to see if SSB would pay off at our 2.5-mile stop. That's where CB communication in our area can get pretty rough given all the trees and structures. My son's AM signal was coming in at around 3 lbs. on the RF meter, which isn't all that great considering noisy signal pileup. When we switched to USB and LSB, it didn't make a big difference. In fact, it was more of an issue since we had to fine tune the incoming signals with the clarifier.
At one point, while talking on LSB my son kidded around and said, "Take me to your leader." On the receiving end, he sounded just like an alien from an old SciFi movie. Who knows? Maybe that's where Hollywood got those early alien voices.
With eight more watts of transmission power over AM, I was hoping to see that RF signal creep up a bit and for voices to come through a little louder and prouder, but that didn't happen.
The test did get more interesting though when I drove out farther to a spot along the highway about three miles away. In this case, LSB walked away the winner over AM and USB for delivering a clearer transmission. It wasn't by much, but it did sound better. Nonetheless, without seeing dramatic results, this may help explain why there aren't a lot of SSB radios on the market. President offers only the McKinley in SSB; Uniden's Bearcat 980 is their only SSB model; and Cobra no longer offers SSB on any of their radios.
I wouldn't get the McKinley thinking that SSB is going to give you a big leg up over standard AM. Having SSB does give you a little more on-air privacy and a wee bit of extra power, according to my Dosy watt meter anyway. You've also got a chance to hear more conversations, which was the case for us this week. My son and I had landed on a transmission on channel 30 that we couldn't understand on the AM side, but when I turned to USB and used the clarifier, it came through loud and clear. We had to laugh though since neither one of us are fluent in Spanish!
Ultimately, I'm a fan of SSB but then again I've always liked to have more technology that can provide an additional edge. I was the guy in the 80s who recorded music on chrome and metal bias cassette tapes, and though I thought Dolby B and C were cool and interesting noise limiting technologies to have on your tape deck, I didn't think they made a huge difference. SSB can make an interesting difference at times for those that are really into two-way communication. It would be even more interesting if clarifiers could be automated to eliminate tuning back and forth so that users could keep their eyes on the road instead of hunting for a knob. This isn't a deal killer. Just saying that after over 50 years, SSB still has room for improvement and if they want to reel in the next generation of buyers like my two sons, then CB manufacturers need to get back to the drawing board.