Trucking news and briefs for Friday, March 24, 2023:
Used truck prices tumble as volumes remain steady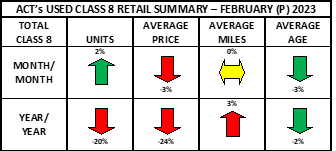 ACT Research announced last week preliminary Class 8 same dealer used truck retail sales volume managed a small gain, rising 2% month over month in February. Pricing was down another 3% during the same period.
The small improvement in volume paled in comparison to the 233% sequential increase in auctions sales and a 55% jump in wholesale transactions. Combined, the used truck industry saw preliminary same dealer sales increase 49% month over month, the company said.
"Traditionally, February is not a particularly robust month for sales, but the cycle seems to keep finding ways to extend itself just a little further," says Steve Tam, ACT Research vice president. "As new truck sales have slowed in January and February, it is safe to assume used truck volumes will follow suit in the next few months."
On a year over year basis, volumes were down 20% from February 2022 with pricing down even more, 24%.
"As expected, declines are becoming progressively more negative," adds Tam, though the pricing declines are clearly a positive for those in the market to buy. "This is the result of the fact that prices increased in early 2022, reaching their zenith in April. While the retail market held up reasonably well in February, the preliminary average sale price for all units, including auction and wholesale transactions, fell an astounding 20% month over month."
[Related: Owner-operators adapt to skyrocketing used-truck pricing with tight volume: Report from early 2022]
New York eyeing speed limit changes
A New York legislator has introduced a bill that would increase the speed limit by 5 mph -- from 65 to 70 mph -- on portions of a number of major highways in the state. The bill, if approved and signed into law, would bring New York into line with most other states that have an upper limit of 70 mph.
Assemblyman Angelo Santabarbara, a Democrat from a district west of Albany, introduced the legislation in response to changing transportation technology.
"My bill will bring New York in line with the vast majority of other states that already have speed limits of 70 miles per hour or higher," said Santabarbara in a statement on his website. "The fact is technology has changed and more people are comfortable driving at a higher speed on the highway. We have better roads and modern engineering that has made today's cars safer and easier to drive. This small change to our state's speed limit would acknowledge those advancements and adjust to what most drivers comfortably drive at on major roadways across the country."
New York capped the maximum speed limit at 65 mph in 1995.
Thomas F. O'Mara, a Republican from the state's Southern Tier, introduced a companion bill in the state senate earlier this year.
[Related: 'Dumbest idea I've ever heard': Owner-operators say no to speed-limiter mandate]
RXO brokerage surpasses 1 million app downloads
RXO, the brokerage that was spun off from XPO last year, announced that RXO Drive, the company's mobile app for truck owner-operators, surpassed one million downloads.
RXO Drive is a free mobile application that helps owners find loads, negotiate rates, plan trips and book freight.
Yoav Amiel, chief information officer at RXO, estimated that by the end of 2022, 87% of the company's loads were created or covered digitally, "and the number of downloads of the RXO Drive app increased by 45% year-over-year."
RXO Drive incorporates machine learning and artificial intelligence to provide carriers with load discovery tools and online booking. It also helps operators optimize the usage of their trucks and minimize empty miles, the company said. Carriers and drivers can also negotiate rates, place bids and manage counteroffers through the app.
RXO Drive also offers mobile document uploads and payment tracking.
Driver recognized for helping elderly man who crashed
The Truckload Carriers Association has named truck driver Travis Braun, from Grain Valley, Missouri, a Highway Angel for stopping to help an elderly man who crashed into a concrete median in the middle of the night. Braun drives for ABF Freight out of Fort Smith, Arkansas.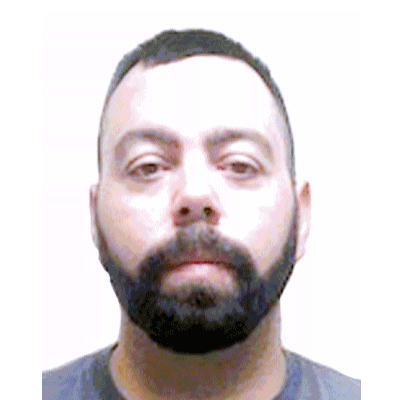 On March 8 around 2:30 a.m., Braun was traveling on I-44 in Vinita, Oklahoma. In front of him, a pickup truck pulling a trailer pulled off on the side of the road and seemed to attempt to make a U-turn. The vehicle ended up crashing into a concrete median barrier, blocking the entire interstate, according to Braun.
Braun pulled over and ran to the crashed vehicle to see if the driver was injured. The man, who appeared to be in his mid-70s, told him he was shaken up and seemed to be disoriented. Braun called 911 and stayed on the scene until the emergency responders arrived.
The first responders and police wanted the driver to move his crashed vehicle, but he could not comprehend the instructions. Braun was given permission from the police to move the vehicle, and he parked it safely across the road.
"I just felt like it was the right thing to do," he said.