Trucking news and briefs for Wednesday, Feb. 1, 2023:
ELD ONE plans to fix issues that led to FMCSA revocation
The Federal Motor Carrier Safety Administration on Jan. 31 removed the ELD ONE electronic logging device from the list of registered devices for failing to meet minimum ELD requirements.
According to the company, more than 10,000 users are affected by the revocation.
Radu Murzac, CEO of ELD ONE, said the company has been meeting with FMCSA representatives over the last few months to address concerns with the devices. Ultimately, "we fell short," Murzac said. He noted that the company's development team, located in Ukraine, "have worked tirelessly, through power and internet outages, to complete as many of the FMCSA requests as possible."
Because of the team's work, Murzac expects a fix for the "final issue" identified by FMCSA to be solved within the next two weeks.
As reported Tuesday, drivers using the device are required to stop using the device and revert to paper logs or logging software to record hours of service. If ELD ONE addresses the issues that led to its revocation, FMCSA will place the device back on the registry and "inform the industry and the field."
[Related: FMCSA revokes another ELD from registry]
Snow and ice advisories across Texas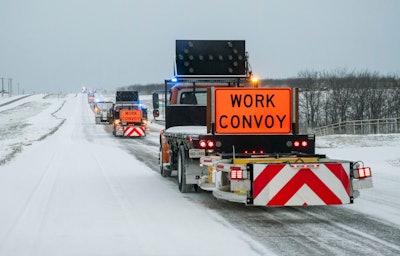 The state of Texas saw an unusual amount of winter weather on Wednesday and has issued widespread snow and ice advisories across the state. Actual road closures remained minimal and away from major interstates.
The Texas Department of Transportation said that the cold weather has led to a series of power outages, and reminded drivers to treat dark intersections, or intersections with flashing red lights, as a four-way stop.
"We really cannot emphasize this enough: DO NOT BE ON THE ROADS," the National Weather Service's Fort Worth account tweeted Wednesday morning. "They are going to virtually be impassable through today and tonight."
Plows are working the roads and temperatures across the state were above freezing on Wednesday afternoon, with the weather service predicting the worst of it has passed. For the most up-to-date information on road closures and conditions, check DriveTexas.org.
[Related: I-80 in Wyoming closes a third time in a week]
Brokerage now offers discount program to carriers
Tech-enabled RXO brokerage platform, spun out of XPO, announced it has launched RXO Extra, an expanded suite of exclusive partnerships and discounts that offer carriers cost savings that help grow their business.
Through RXO Extra, carriers can save money on fuel, maintenance, tires, retail and more. These offerings are accessible on a streamlined online marketplace.
"At RXO, we believe in going the extra mile for carriers, who are the backbone of our business," said Lou Amo, president of RXO's truck brokerage business. With Extra, "we've added more exclusive partnerships and discounts and built a streamlined online marketplace that makes these cost-saving opportunities easy to access."
As part of the launch of Extra, RXO announced three new cost-saving partnerships that build on the company's preexisting rewards offerings. Carriers can now access discounts on SiriusXM subscriptions, hotel discounts through CLC Lodging, and DAT Load Boards.
Driver named Highway Angel for stopping to help at two-truck crash scene
Truck driver Justin Haywood, of Durham, North Carolina, has been named a Highway Angel by the Truckload Carriers Association for helping rescue a trucker trapped in his vehicle after a two-truck crash. Harris drives for Ward Trucking out of Charlotte.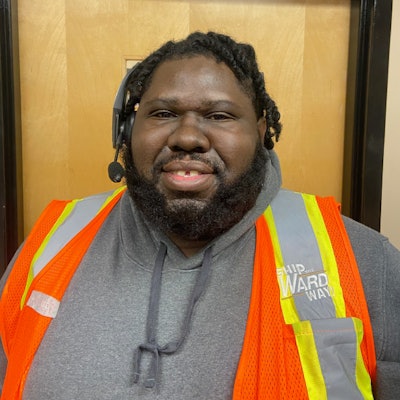 Around 1 a.m. on Dec. 16, Haywood was traveling north on I-95 near Emporia, Virginia. While en route, Haywood noticed two tractor-trailers were involved in a wreck and no one was at the scene. The first truck blew a steer tire, which pulled the truck into the median and made it bounce into the guard rail.
"I saw the second truck hit the back of his trailer," he said. The crash knocked the first trailer into oncoming traffic.
Haywood pulled over and called police, and he and another passerby ran over to help.
"We got out and helped the first driver out of his truck," he said. "We broke his window out and got him out of his window; he was okay."
Haywood then ran to the other truck, which sustained severe damage.
"His cab looked like somebody dropped a bomb on his tractor," he said. "It was just splintered -- you couldn't tell where the actual tractor was."
Expecting the worst, the two men yelled out to the trapped trucker, and heard a faint voice from within the wreckage.
"Somehow that guy survived," Haywood said, adding that the man had been knocked into the floor and the dashboard curved back on him, pinning him.
"I held his hand until the fire department got there," Haywood said. "I didn't know if that was going to be his last moment. I didn't want him to be alone."
Emergency personnel arrived and took over the crash scene, but Haywood was glad to have been of assistance that night.
"If that was me, I would hope somebody helps me," he said.