The used market remains the purchase avenue of choice for the majority of owner-operators when it comes to truck equipment, according to the results of Overdrive's Truck Purchase and Lease Survey, conducted last Fall.
Among hundreds of respondent Overdrive readers, more than half independents or small fleets with authority (the balance leased), a majority (56%) reported their most recent truck purchase being a used truck; 32% bought new. Fewer than 10% lease-purchased or leased equipment.
These numbers are somewhat similar to the results of a survey conducted by Overdrive in 2015, in which 60% of readers said their most recent truck purchase was a used truck, 23% new.
The percentage of owners who reported buying or building a glider kit was up slightly from the 3% reported in 2015, likely due, at least in part, to more owners looking for trucks with pre-emissions engines ahead of the curtailing of the glider market in more recent years.
Despite used trucks being the preferred route for many owner-operators, finding a used truck today at a comfortable price is more challenging than ever due to the COVID-19 pandemic and delays in new truck production caused by component shortages. With fewer new trucks on dealer lots, fewer trucks are being traded in, driving up the cost of the used trucks that are available.
According to the latest release of the "State of the Industry" report by ACT Research on the Class 3-8 used-truck market, issued Feb. 15, used Class 8 retail volumes remain down 32% year over year, with an 8% slide from December to January.
Prices on average continue to rise as well -- 9% higher in January compared to December, and 82% more expensive than in January of 2021. Average miles and age on used trucks were also up 6% year-over-year, ACT reported.
"As is historically the case, preliminary same dealer retail sales nosedived in January, but not nearly as much as the expected 45% or so drop," said Steve Tam, Vice President at ACT Research, commenting on January numbers. "For various reasons, truck buyers are generally not in the market in the dead of winter, but clearly, used trucks are still in demand today. More pertinent is the comparison to January 2021, where sales lagged by 32%. At issue is the simple lack of inventory from which truckers can purchase. Despite the robust new truck build and sales figures that closed 2021, the used truck market is operating with less inventory than it has at almost any time in recent memory and perhaps ever."
According to J.D. Power's January 2022 "Commercial Truck Guidelines" report, used truck retail pricing in 2021 reached its highest peak in the modern era. The firm reported the average sleeper tractor sold in December was 73 months old, had 468,285 miles and brought $90,398. Compared to December 2020, this average sleeper was 6 months older, had 12,865 (2.8%) more miles, and brought a whopping 85.8% more money at $41,748.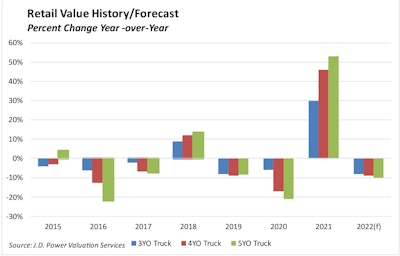 For some, upward pressure on the used-truck market proved too strong to resist. Small fleet owner Doug Schinzing, owner of South Sioux City, Nebraska-based Sure Trucking Inc., in December 2021 decided to sell his fleet of 10 trucks at a substantial premium and retire from the industry.
"After 51 and a half years on the road, I have just had enough," Schinzing said. "I couldn't hire drivers to take the place of drivers I lost. When the price of trucks skyrocketed, I said, 'This is it.' I never planned to retire, but it was time."
Schinzing said he had ordered a new truck in January 2021, and after production delays, finally picked it up in December. He sold it, too, at auction six days later.
ACT Research expects new truck build rates to improve later in 2022, which should help used volumes as well, eventually leading to lower prices for used equipment.
"As a result, our new Class 8 truck sales forecast expects to see U.S. sales improve," Tam said in January, "and by extension, used truck sales volumes should also improve, with used truck prices starting on a sequential decline path, but remaining higher year-over-year through most, if not all, of the first half of 2022. Key to this projection is the rate at which freight hauling capacity rebalances."
Financing trends: More miles for used vehicles to lead higher lending rates
Once new truck production does catch up, one thing used-truck buyers should keep an eye out for is the financing impact of what is expect to be an older, more-high-mileage well of used trucks to pull from.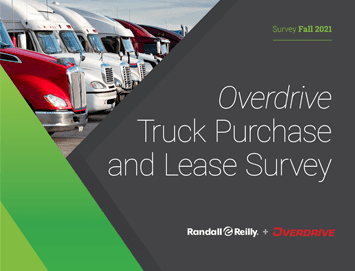 How do Overdrive readers acquire trucks for their business?
If you're an owner-operator trying to navigate the fast-changing truck purchase/leasing environment, you need to check out how your peers responded to this survey from Overdrive.
Download the survey results to access insights on:
→ Percentages of respondents who bought new vs. used trucks
→ Model years for trucks and engine/emissions spec
→ Truck financing and maintenance issues
→ Fuel-mileage performance
→ Your peers' interest in emerging electric powertrains
"What's going to be interesting is a year and a half, two years from now, when trucks start rolling off assembly lines and trade-ins hit lots, they will have more miles than is typical," said Chris Grivas, president and CEO of CAG Truck Capital.. "You'll be looking at trucks with 650,000-850,000 miles," instead of trucks on a more typical trade cycle with 400,000-600,000 miles.
Grivas said many trucks today require engine overhauls in that 600,000-800,000-mile range.
"Now you're in an environment of 'who's going to finance these trucks? And how?'" he said. Previous generations of diesel engines, Grivas contended -- "Cat C15s and Cummins N-series engines and Detroit 60 Series" -- might hum for as much as 1.5 million miles before a serious overhaul. "That's not the case anymore. All of these trucks, if they're running smoothly, it's just a matter of time before they need to be overhauled."
Financing a used truck is already thus viewed as a more significant challenge than in years past due to the higher risk to the lender if an engine goes out and an owner doesn't have the funds to replace it -- and goes out of business. With higher-mileage trucks, that risk will grow even more for lenders.
Brian Antonellis, Senior Vice President of Fleet Operations for Fleet Advantage, said small fleets should look at their current equipment and compare the costs of extending the life of the truck through maintenance to buying a newer used truck in the current environment.
"There's going to be some opportunity for [small carriers] to look at how they manage their equipment," Antonellis said. "If you go from a five- or a six-year tractor" trade cycle for a small fleet, "and now they're going to have to keep it to eight or nine, yes, they're going to see a 4-, maybe 5-cents-per- mile increase on cost … They're going to have to be creative and say, 'Should I replace major components?' You can no longer think about just putting the band-aid on until you can get rid of it."
Antonellis took a pessimistic outlook on truck production, saying that small fleets should be looking toward around mid-2023 before the market returns to a more typical level of production.
CAG Truck Capital has worked in recent years to develop loans that will help cover owners, even in the case of an overhaul. The company's hybrid loan guarantees that, if the used truck's engine goes out at any point during the loan, CAG will work with the owner to get a certified engine overhaul and refinance the loan to build in the cost of the overhaul.
"We will get you right to a shop," Grivas said, "and we're going to do a proper certified overhaul, refinance your truck, extend the term, and keep that payment about where it was so you're not out of business."
Owners who are in the market for used trucks today should expect to have a higher down payment than in a normal purchasing environment -- to make up for the higher price of the trucks, Grivas noted. Drivers looking to transition to being an owner-operator who are just starting out will have to have even more down than an established owner, he added.
"You're entering at the best and the worst of times," Grivas said. Freight rates are up, loans are available, but ""if you're just getting started in any environment, you need 25%-35% down. In the current environment, truck prices are so inflated that lenders need a lot more than that down to make that happen." Grivas's company is "doing a lot less financing because people just don't have the money, and the ones that do, they pay half down or pay cash."
Of Overdrive readers who reported in the survey that they most recently bought a used truck, 38% paid cash. The majority, 57% cumulatively, financed the purchase with a bank loan or through a captive or specialty lender, including those affiliated with truck manufacturers and equipment dealers, as detailed in the chart below.
There are a number of factors that play into the interest rate on a loan, which plays a large factor in the monthly payment. Grivas said your credit score is important, but lenders also look at the model year of the truck, the down payment, the owner's business experience and their resourcefulness.
"I'd rather lend money to a guy with a 600 credit score whose father was an owner-operator, grandfather was an owner-operator, brother is a diesel mechanic, and maybe his credit score is down because of divorce," Grivas said. "That's a great risk compared to a guy with a 700 credit score who's just getting started."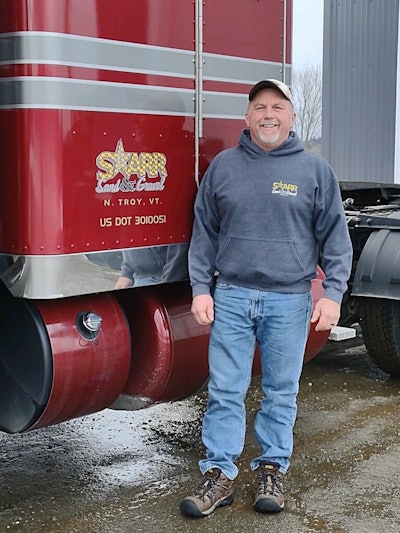 If buying a new truck, experienced owners can expect interest rates as low as the low single digits. Used truck financing will see higher interest rates, ranging from around 10%-13% and going up from there, Grivas added.
Small-fleet owner-operator Eric Starr, of North Troy, Vermont-based Starr Sand & Gravel, most recently bought a 2022 Kenworth W900L last year and financed it through a local bank he's worked with for years at a 3.25% interest rate.
Next in this series: Emissions systems, while improved, still causing issues for some owners