Previously in this series: Emissions systems, while improved, still causing issues for some owners
ACT Research on Feb. 7 released its updated battery-electric vehicle and fuel-cell electric vehicle study and adoption forecasts for North American commercial vehicle markets, and projected that in the next five years, the marketshare of battery electric trucks will grow from just 2% today to more than 20% in 2027.
As part of the second edition of its report, "Charging Forward," ACT Research analyzed and built economic-based, total-cost-of-ownership (TCO) algorithms to plot the adoption in 23 work applications of Classes 4-8 battery-electric vehicles across North America.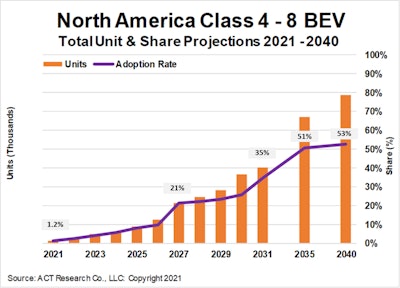 "We've really spent a considerable amount of time looking at the regulatory landscape to understand how policies and regulations will impact BEV and FCEV [fuel-cell electric] adoption. Everything from ZEV mandates and NOx emissions regulations to relaxing weight penalties and local air quality rules," said Lydia Vieth, ACT's Research Analyst of electrification and autonomy. "Regulatory impacts are built into our TCO model, and we've made it easy for our clients to factor in their own subsidies and incentives."
[Related: Cutting through the heavy-duty e-trucks hype]
While researchers are high on the likelihood of trucking's adoption of electric trucks, owner-operators in Overdrive's audience, by and large, have yet to perceive a realistic outlook for adoption.
In response to Overdrive's 2021 Truck Purchase and Lease Survey, 68% of readers said they have no interest in fully electric powertrains, yet some owners do buy into the industry's projections that electric trucks are the future, especially once on-board fuels can supply on-demand charging and power for longer runs, among other views. See the full scope in the chart.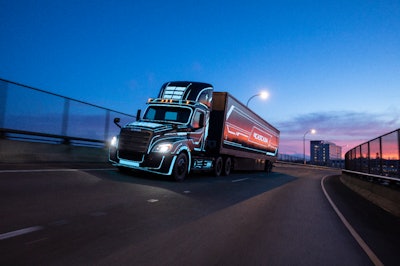 Small-fleet owner Eric Starr, who's based in Vermont and primarily runs in the Northeast and into Canada, said he thinks electric trucks definitely have their place in the industry, as long as it's the right application.
"I think in the right climate and application, it certainly has its place," he said. "On a regional or local haul, more in the South and Southwest where the climate and weather is nice, I can see it working. Here in the Northeast where it can be -25 one day and 40 degrees the next – for me, I don't see them working well in our climate with big temperature swings, bad roads, salt and brine on the roads that gets into wiring harnesses and creates issues."
Texas-based leased owner Robert Wafer initially responded through the survey that electric is the future, particularly once on-board fuels can supply power. He's since changed his mind to see the current generation of battery-electric trucks as potentially superior in an environment like what's happening now with high fuel and maintenance costs. The biggest thing holding electric trucks back now, Wafer believes, is the charging infrastructure.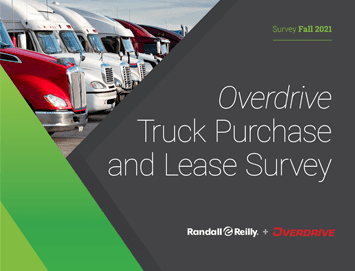 How do Overdrive readers acquire trucks for their business?
If you're an owner-operator trying to navigate the fast-changing truck purchase/leasing environment, you need to check out how your peers responded to this survey from Overdrive.
Download the survey results to access insights on:
→ Percentages of respondents who bought new vs. used trucks
→ Model years for trucks and engine/emissions spec
→ Truck financing and maintenance issues
→ Fuel-mileage performance
→ Your peers' interest in emerging electric powertrains
"I'm digging those electric trucks," Wafer said. "Once they get the chargers where you don't have to worry so much, I think the actual cost of running a business in an electric truck will pay for itself. The price of diesel, DEF, everything is all ridiculously high. With an electric truck, I don't feel the prices would exceed where we are now if they can get a base built on charging stations."
[Related: Fuel prices spike to nearly $4/gallon]
Wafer said in a typical day for him hauling meat for Cargill around Texas, he rarely runs longer than 400-500 miles. He believes his operation would do well in the current environment with an electric truck if charging stations were more common.
Doug Schinzing, who until December operated a 10-truck fleet out of Nebraska hauling reefer freight from Sioux City to Chicago and specialty groceries back, all within a 500-mile radius, said he would have considered buying an electric truck for his operation, particularly for all the stops he did in Chicago.
"All the little shops I had to pick up from in Chicago, I certainly would have considered buying one for making pickups," he said. "It's intriguing new stuff."
If you missed it, find the first and second parts of this series via this link.